VIDEO INTRODUCTION
WHAT IS IT?
Acute rheumatic fever is a type II hypersensitivity reaction that is a consequence of pharyngeal infection with group A strep (Streptococcus pyogenes), aka strep throat. It is not a direct effect of the bacteria (occurs 2-3 weeks after the infectioin), but is immune mediated. It occurs in a small fraction of untreated cases of strep throat.
WHY IS IT A PROBLEM?
During the initial strep infection the body will develop antibodies to M protein (protein that is strongly anti-phagocytic and is a major virulence factor) that help protect against S. pyogenes. Unfortunately, these antibodies can cross react with self antigens (through a process called molecular mimicry, given similar epitomes to human cellular proteins) that ultimately leads to immune mediated destruction of cardiac cells. Rheumatic fever can cause pancarditis (endocarditis, myocarditis, and pericarditis).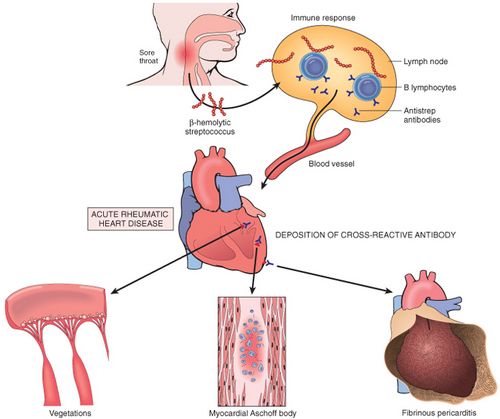 WHAT MAKES US SUSPECT IT?
Risk factors: history of rheumatic fever, recent strep throat infection, female
Chief concerns: some of the most common ones are below (source)
Palpitations in 95.4%
Fatigue in 89.2%
Dyspnea in 75%
Chest pain in 74.6%
Fever is also possible
Migratory arthritis: affects many joints and migrates around the body (luckily will not cause permanent damage). Patients will feel joint discomfort/pain.
Subcutaneous nodules: painless and firm, these can appear over bones/tendons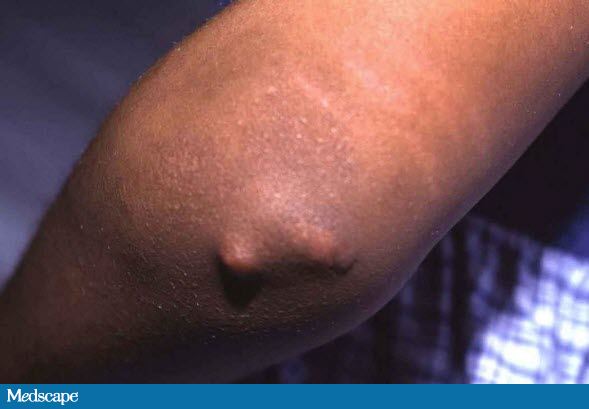 Erythema marginatum: An erythematous macular rash that is spread out, but has a clearing in the middle. Typically has sharp well defined borders.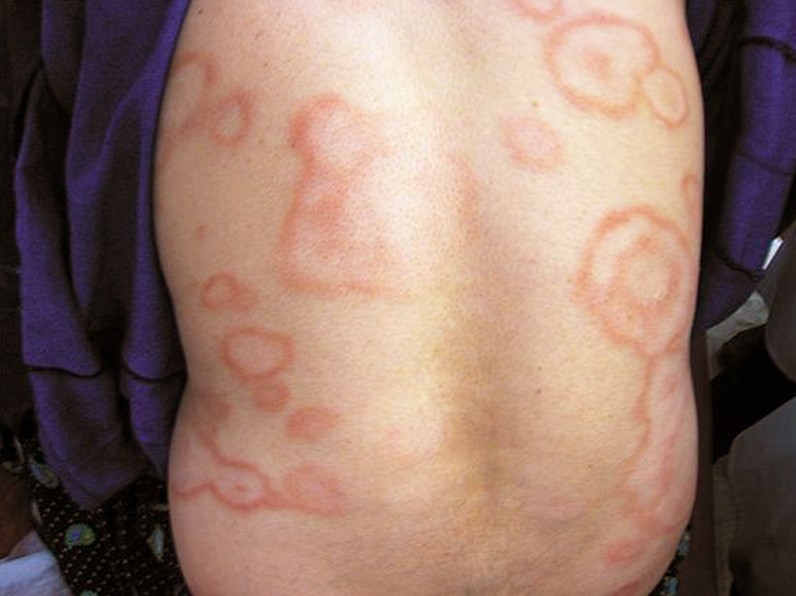 Sydenham chorea (St. Vitus dance): these are uncontrolled and uncoordinated jerking movements of the hands, feet, and face.
Rheumatic fever can cause various murmurs: mainly because it can cause endocarditis (non-infective)
Mitral or Tricuspid regurgitation: Holosystolic "blowing" murmur
Mitral valve prolapse: layte systolic cresendo murmur that has a mid systolic click
Aortic regurgitation: diastolic early decrescendo murmur
Mitral stenosis: Follows opening snap, delayed late diastolic murmur

(most frequent)
*Early lesion is mitral regurgitation, while late lesion can become mitral stenosis
Friction rub: can be heard on cardiac exam (with possible associated chest pain) due to pericarditis
HOW DO WE CONFIRM A DIAGNOSIS?
Elevated ESR while nonspecific, is seen in this condition.
Serology: Anti-streptolysin O (ASO) and/ or anti DNase B antibodies in the patient will confirm a recent strep infection.
Echocardiography will confirm findings from the patient's cardiac exam.
*NOT FOR ROUTINE CLINICAL DIAGNOSIS however histological analysis can confirm suspicions of rheumatic fever (myocarditis will be observed).
Aschoff bodies: granuloma with giant cells can be seen in the myocardium.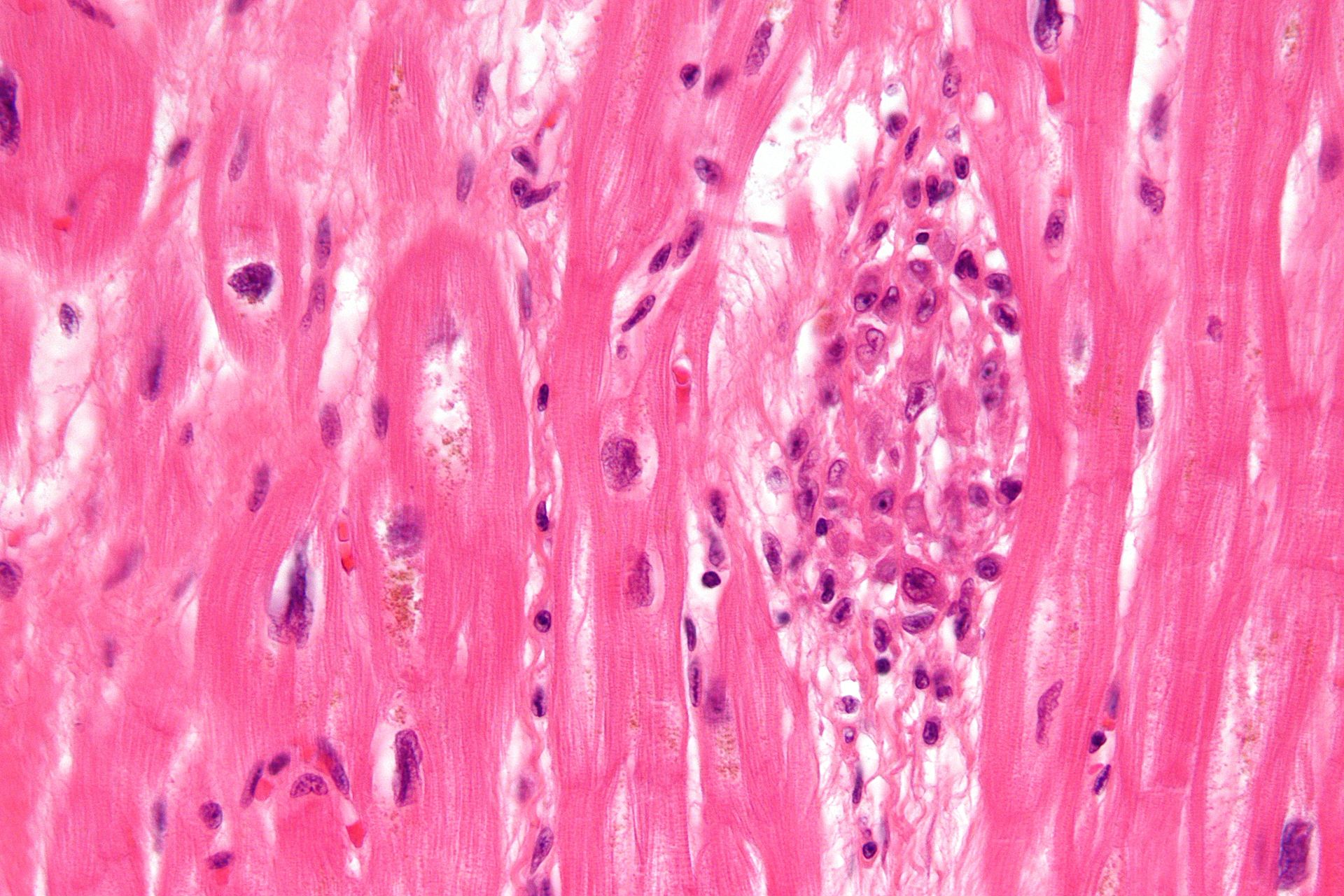 Anitfchkow cells: large macrophages with ovoid wavy rod-like nuclei can also be seen in cardiac tissues. These can actually be found within the Aschoff bodies.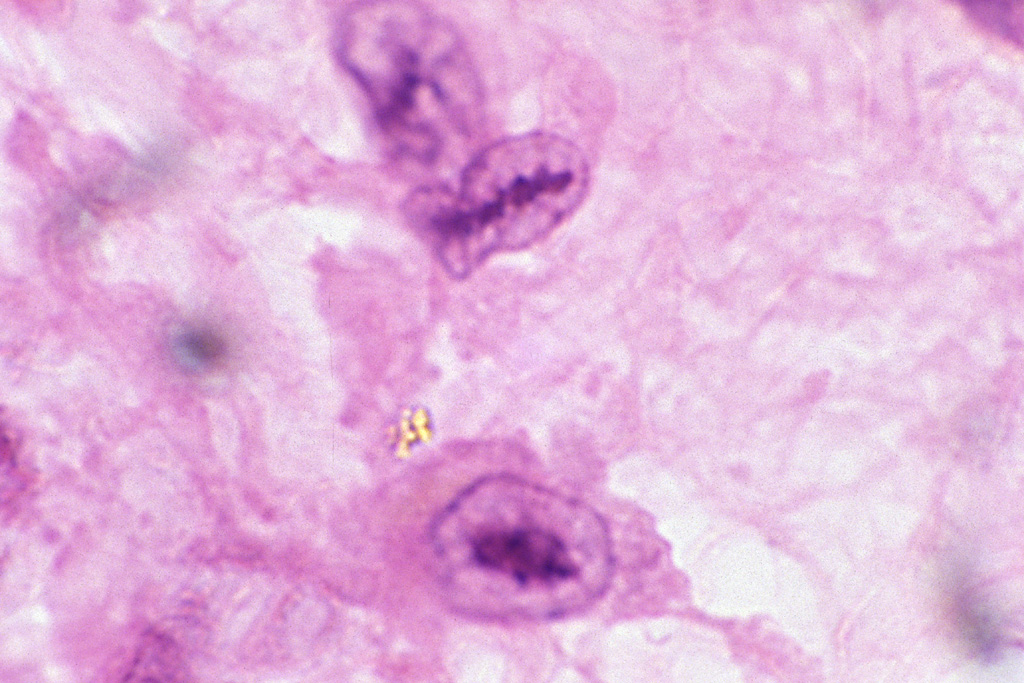 HOW DO WE RULE OTHER DIAGNOSES OUT?
Recent infection of strep throat (with prison of anti ASO antibodies) will make rheumatic fever a very likely diagnosis.
HOW DO WE TREAT IT?
Penicillin G or V is used to treat this condition/act as prophylaxis for rheumatic fever
HOW WELL DO THE PATIENTS DO?
Rheumatic fever causes many deaths per year especially if untreated (source). Proper treatment can significantly lower the mortality of this condition.
WAS THERE A WAY TO PREVENT IT?
Antibiotic treatment of strep throat can prevent rheumatic fever (regardless of past history of the condition): that being said, those who already have a known history of rheumatic fever will likely relapse with another strep throat infection (and should absolutely be given antibiotics to prevent this from happening).
WHAT ELSE ARE WE WORRIED ABOUT?
Infective endocarditis: damage to a valve from rheumatic fever can predispose it to bacterial colonization/infective endocarditis
OTHER HY FACTS?
J♥NES (major criteria for acute rheumatic fever):
Joints: polyarthritis
♥—carditis
Nodules (subcutaneous)
Erythema marginatum
Sydenham chorea
Rheumatic fever will give a false positive on VDRL test for syphilis
Myocarditis is most common cause of death during acute phase
ARCHIVE OF STANDARDIZED EXAM QUESTIONS
This archive compiles standardized exam questions that relate to this topic.
FURTHER READING
Page Updated: 01.27.2016