WHAT IS IT?
Pyelonephritis is quite simply an infection of the kidney. It can either be acute or chronic. This page is mostly dedicated to the acute condition (simply because the chronic condition is only repeat acute infections).
Causes: ascending UTI (commonly E.coli), hematogenous spread of infection to kidney, kidney stones. Klebsiella and Enterococcus faecalis are also common causal species.
WHY IS IT A PROBLEM?
Neutrophils will infiltrate the renal interstitium. This will affect the cortex of the kidney, but will spare the glomeruli/vessels. Chronic inflammation can damage renal tissues and obstruct fluid flow as well.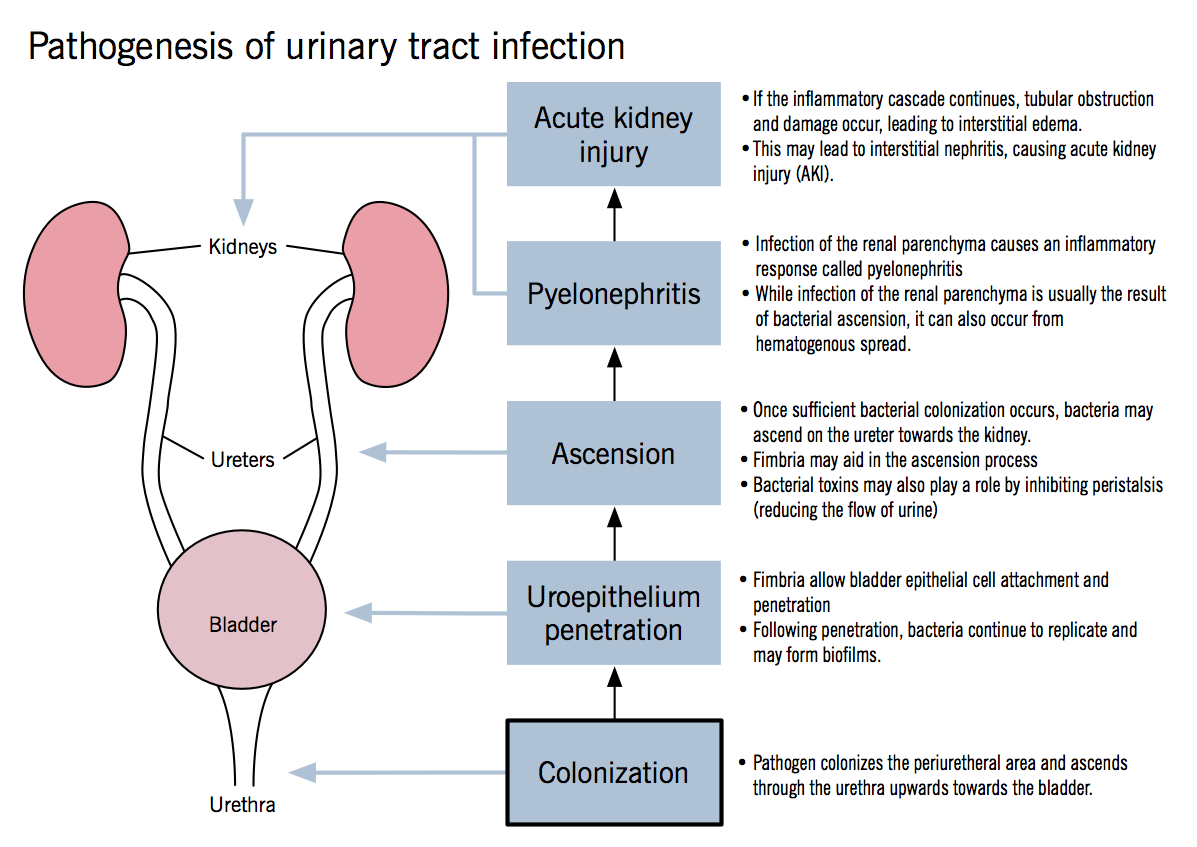 WHAT MAKES US SUSPECT IT?
Risk factors: longterm urinary catheter, urinary tract obstructoin, vesicoureteral reflux (backward flow of urine to kidneys), diabetes mellitus, pregnancy
Symptoms of cystitis (inflammation of bladder): these include
Painful urination
Frequent urination
Urgency with urination
Suprapubic pain (less common)
Fever, chills nausea, and vomiting in addition to the symptoms of cystitis
Flank pain: which can be assessed on physical exam. Percussion can be conducted on the back of the patient above the kidney (lightly beating the bottom of the fist against the flank) to assess for the presence of kidney pain. This is also called costovertebral (CVA) angle tenderness.
HOW DO WE CONFIRM A DIAGNOSIS?
Urine studies: WBCs in urine +/− WBC casts. Positive urine cultures for causal pathogen.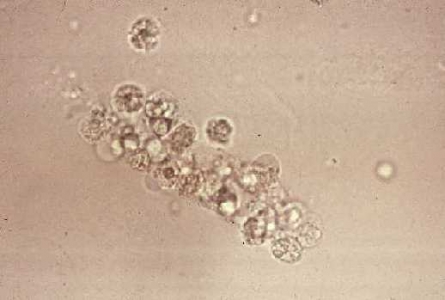 CBC: leukocytosis
Ultrasound: in patients with symptoms of a UTI, ultrasound findings of increased echogenicity (brightness) can be suggestive of pyelonephritis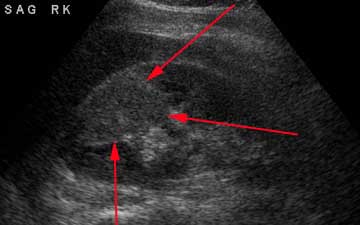 CT shows striated parenchymal enhancement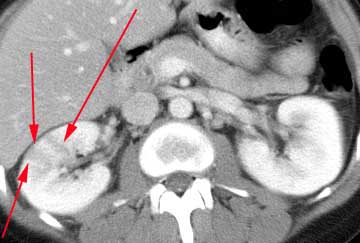 HOW DO WE RULE OTHER DIAGNOSES OUT?
Imaging that reveals abnormal findings in the kidney can be useful for ruling out infections that are thought to only reside below the kidneys.
HOW DO WE TREAT IT?
*Antibiotics targeting the causal pathogen
HOW WELL DO THE PATIENTS DO?
Patients often are able to make a full recovery with proper treatment.
WAS THERE A WAY TO PREVENT IT?
Preventing the underlying condition (UTI, kidney stones, etc) can prevent the spread of the infection to the kidneys
WHAT ELSE ARE WE WORRIED ABOUT?
Urosepsis: given how vascular the kidneys are, infections that spread there are able to enter the blood stream.
Chronic pyelonephritis: this is the case of recurrent episodes of acute pyelonephritis, which will cause coarse corticomedullary scarring. The tubules contain eosinophilic casts that resemble the thyroid tissue (thyroidization of kidney). Typically caused by predisposition to infection (such as chronically obstructing kidney stones)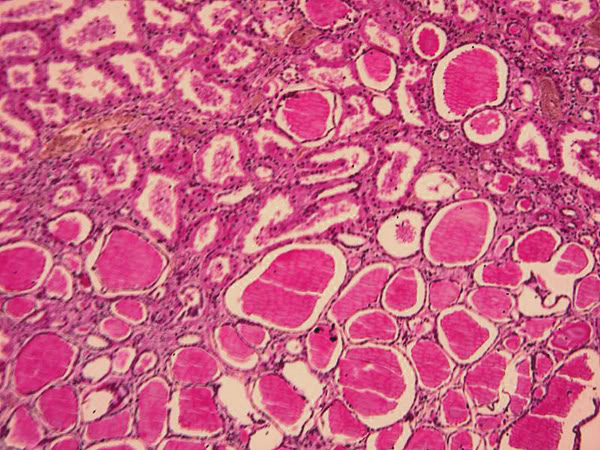 Renal papillary necrosis: necrosis and sloughing of renal papillae. Characterized by gross hematuria and proteinuria.
Perinephric abscess: pus can collect around the kidneys as a result of the infection.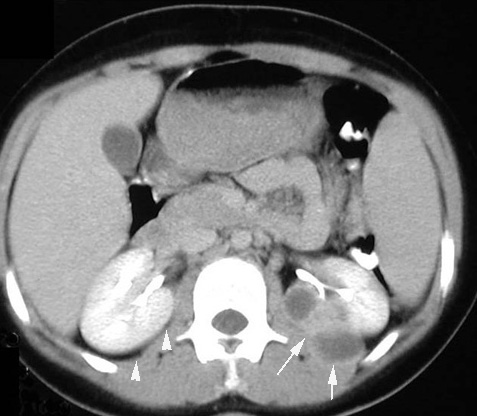 OTHER HY FACTS?
The E.coli virulence factor fimbriae (protein adhesions) are responsible for pyelonephritis
ARCHIVE OF STANDARDIZED EXAM QUESTIONS
This archive compiles standardized exam questions that relate to this topic.
FURTHER READING
Page Updated: 01.27.2016