WHAT IS IT?
Acute tubular necrosis (ATN) is exactly as it sounds: rapid necrosis of epithelial cells within the tubules of the nephron. It can be caused by ischemic or nephrotoxic injury:
Ischemic: this is secondary to decreased blood flow (such as due to hypotension, shock, sepsis, hemorrhage, heart failure).
Nephrotoxic: secondary to injury from toxic substances (such as aminoglycosides, radiocontrast agents, lead, cisplatin), a crush injury to muscle (myoglobinuria), or hemoglobinuria. Tumor lysis syndrome (by causing uremia) can also cause this.
WHY IS IT A PROBLEM?
Regardless of the cause (ischemic or nephrotoxic), necrosis of cells within the nephron (often proximal tubule cells) will result in cell debris formation. These cellular debris will obstruct the tubules, leading to fluid backup in the nephron. Ultimately this will result in a decrease in the glomerular filtration rate (GFR). Furthermore the dysfunctional tubular epithelium imparts the ability to resorb BUN, sodium, and also makes the patient unable to concentrate urine.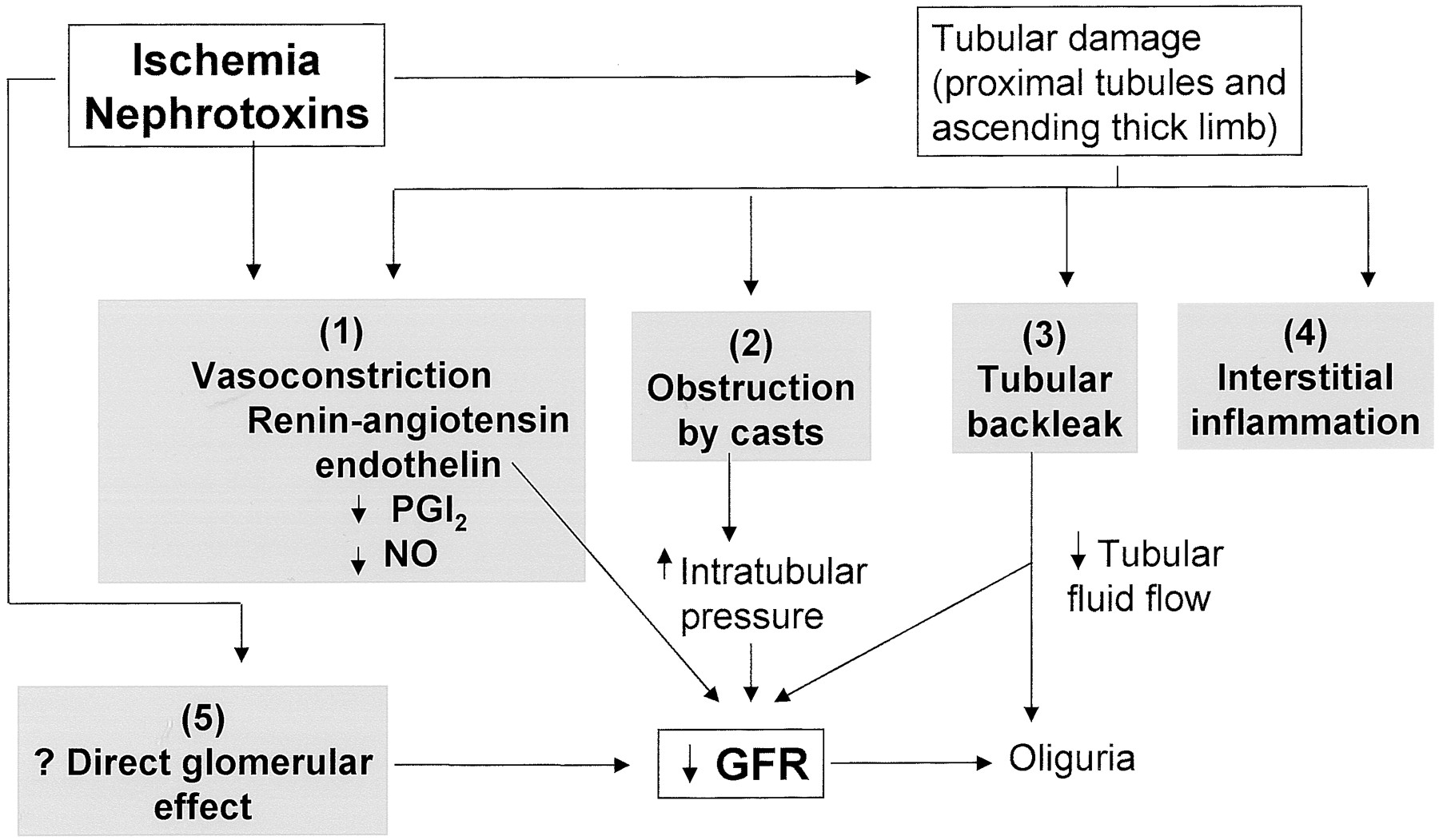 3 stages:
Inciting event
Maintenance phase (oliguric): lasts 1-3 weeks, risk of hyperkalemia, metabolic acidosis, and uremia
Recovery phase (polyuric): BUN and creatine fall, risk of hyperkalemia
WHAT MAKES US SUSPECT IT?
Risk factors: chronic kidney disease, hypertension
Oliguria: diminished GFR can result in decreased urine output
*May be asymptomatic
HOW DO WE CONFIRM A DIAGNOSIS?
Urine analysis:
Granular "muddy brown" casts that are composed of necrotic cells

Urine osmolality < 350-400 mOsm/kg

Urine sodium level > 40 mEq/L

Urine:plasma creatinine ratio < 20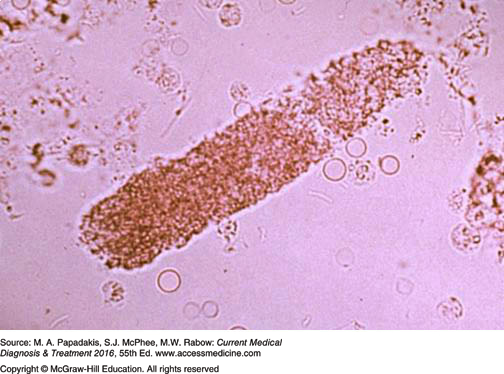 Serum values: hyperkalemia and metabolic acidosis
HOW DO WE RULE OTHER DIAGNOSES OUT?
Patients will have a typical BUN:creatinine ratio (10-20:1) which is very indicative of intrinsic renal failure (like ATN)
HOW DO WE TREAT IT?
*Treatment is tailored to the cause of ATN! Either solving the issue of low renal profusion or limiting/discontinuing the nephrotoxic agent.
Supportive dialysis can be necessary given serious electrolyte imbalances.
HOW WELL DO THE PATIENTS DO?
This condition can spontaneously resolve in many cases, but it can be fatal, especially during the initial oliguric phase. It is reversible however will take some time (2-3 weeks) for the tubular cells to regenerate.
WAS THERE A WAY TO PREVENT IT?
Hydration and allopurinol given before initiation of chemotherapy to decrease risk of urate induced ATN (as a result of tumor lysis syndrome).
Generally speaking, avoiding nephrotoxic compounds can in part prevent this condition.
WHAT ELSE ARE WE WORRIED ABOUT?
Death: this condition can be fatal due to the electrolyte imbalances it can cause
OTHER HY FACTS?
This is the most common cause of acute kidney injury in hospitalized patients.
ARCHIVE OF STANDARDIZED EXAM QUESTIONS
This archive compiles standardized exam questions that relate to this topic.
FURTHER READING
Page Updated: 01.27.2016