WHAT IS IT?
Furosemide (lasix) is a sulfonamide loop diuretic that inhibits the cotransport system (Na+/K+/2Cl−) of the thick ascending limb of loop of Henle. This results in the decreased ability of the kidney to create a hypertonic medulla, and also impairs the ability of the body to concentrate urine. This helps the body lose water through the urine.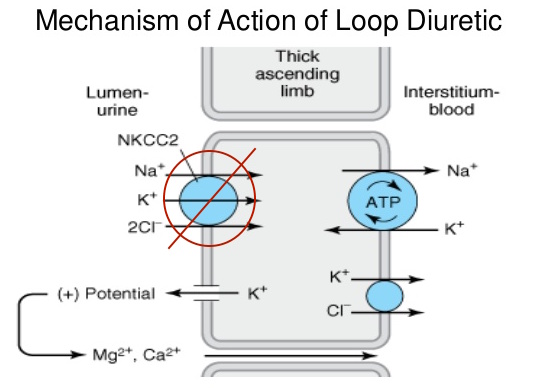 Increased delivery of sodium to the distal nephron can lead to increased potassium wasting in the distal convoluted tubule (potassium wasting diuretic). As a side result, the loss of potassium resorption (which is needed for both magnesium and calcium respiration) can lead to wasting of both magnesium and calcium.
In the end furosemide/loop diuretic use causes increased sodium, potassium chloride, magnesium, and calcium excretion.
*These medications also stimulate prostaglandin release which will cause vasodilatory effects on the afferent arteriole in the kidney  (and this can be inhibited by NSAIDs). 
WHEN DO WE USE IT? 
In states of edema (HF, liver cirrhosis, nephrotic syndrome, pulmonary edema), hypertension, and even hypercalcemia as well.
WHEN DO WE AVOID USING IT?
Sulfa drug allergies: furosemide belongs to the sulfa group of medications. Patient with sulfa drug allergies should avoid its usage. This is a type I hypersensitive reaction.
HOW IS IT ADMINISTERED?
Can be administered orally, IV, or intra-muscualr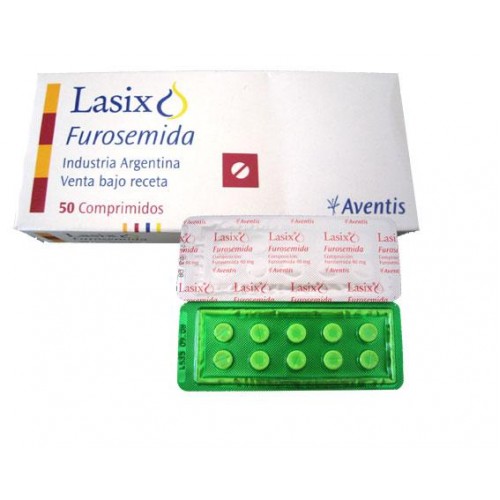 WHAT ARE THE SIDE EFFECTS/TOXICITY?
Furosemide is a very potent diuretic! It can lead to very rapid solute/water loss => volume depletion/dehydration 
Ototoxicity: Endolymph (fluid membraneous area in the ear) uses an NKCC2 cotransporter as well; blockage can prevent normal electrolyte balance in the ear, causing damage.
Hypokalemia: too much potassium loss can be caused by overuse (can have associated metabolic alkalosis)
Hypomagnesemia and hypocalcemia: both magnesium and calcium require proper NKCC2 transporter function for proper calcium/ magnesium absorption.
Gout: furosemide can cause hyperuricemia which can lead to gout
Pancreatitis: can be caused by furosemide
Interstitial nephritis: damage can be caused to the kidney with furosemide usage
ANYTHING ELSE TO KEEP IN MIND?
Lasix is named after the fact that it "lasts-six" hours (loop diuretics are short acting drugs)
FURTHER READING
Page Updated:01.26.2016