WHAT IS IT?
Nephrolithiasis (kidney stones) is a condition characterized by the presence of precipitated solutes in the kidney (which can sometimes transition into the ureter/bladder/urethra).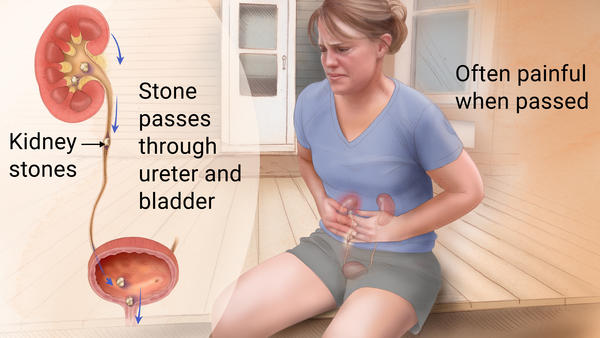 WHAT CAUSES IT?
WHY IS IT CONCERNING MEDICALLY?
WHAT IS THE INTIAL PRESENTATION?
Patient Chief Complaints:
Detected Medical Problems:

WHAT ARE IMPORTANT ELEMENTS OF THE MEDICAL HISTORY?
Risk Factors:
Medical History:
WHAT ARE IMPORTANT FEATURES OF THE PHYSICAL EXAM?
Vital Signs:
Abdominal Exam:
CVA tenderness can be present in some patients with this condition
CLINICAL WORKUP: URINE STUDIES
Urine sediment may reveal the following findings:
Hematuria
Crystals (needle shaped) can be seen in patients with uric acid stones
CLINICAL WORKUP: IMAGING
Abdominal Ultrasound: may be used in patients who are being worked up for abdominal pain however is not the preferred study for the evaluation of kidney stones.
Non-Contrast Abdominal/Pelvic CT-Scan: this is the ideal imaging study for the workup of kidney stones.
CLINICAL WORKUP: OTHER
HOW DO WE NARROW THE DIFFERENTIAL?
Conditions that present similarly and how to exclude them:
WHAT IS OUR THRESHOLD FOR DIAGNOSING THIS CONDITION?
PATIENT MANAGMENT: SYMPTOM RELEIF
PATIENT MANAGEMENT: DISEASE TREATMENT
PATIENT MANAGEMENT: PROPHYLACTIC MEASURES
COULD THIS HAVE BEEN PREVENTED?
ARCHIVE OF STANDARDIZED EXAM QUESTIONS
This archive compiles standardized exam questions that relate to this topic.
Page Updated: 02.19.2017