WHAT IS IT?
Mitizzi syndrome refers to the impaction of a gallstone in the cystic duct or Hartmann's pouch. This will cause cholecystitis and also jaundice.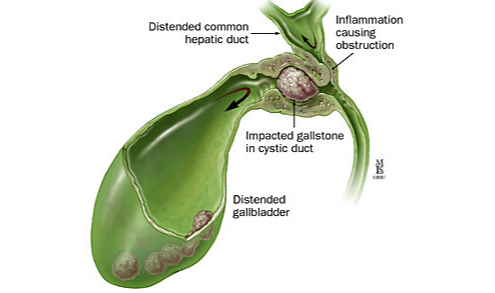 WHAT IS THE INTIAL PRESENTATION FOR THIS CONDITION?
Patient Issues/Chief Complaints:
CLINICAL WORKUP: SERUM STUDIES
Complete Metabolic Panel (CMP):
Elevated bilirubin: often will be direct hyperbilirubinemia
CLINICAL WORKUP: IMAGING
CLINICAL WORKUP: OTHER
WHAT IS OUR THRESHOLD FOR DIAGNOSING THIS CONDITION?
WHAT ELSE SHOULD WE CONSIDER WHEN THIS DIAGNOSIS IS MADE?
HOW DO WE MANAGE A PATIENT WITH THIS DIAGNOSIS?
WHAT IS THE PROGNOSIS FOR A PATIENT WITH THIS DIAGNOSIS?
COULD THIS CONDITION HAVE BEEN PREVENTED?
ARCHIVE OF STANDARDIZED EXAM QUESTIONS 
This archive compiles standardized exam questions that relate to this topic.
FURTHER READING
DynaMed
UpToDate
Page Updated: 01.29.2017