WHAT IS IT?
Cholecystitis refers to inflammation of the gall bladder.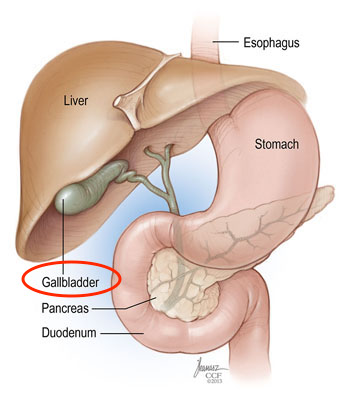 WHAT CAUSES IT?
There are a number of things that can cause this condition that fall into the following categories:
WHY DO WE CARE MEDICALLY ABOUT THIS CONDITION?
This condition can be painful to patients 
WHAT IS THE INTIAL PRESENTATION FOR THIS CONDITION?
Patient Issues/Chief Complaints:
WHAT ARE IMPORTANT ELEMENTS OF THE MEDICAL HISTORY?
Risk Factors:
Female sex, obesity, middle aged, multiple pregnancies
History Of Present Illness (HPI):
Nature of abdominal pain: colicky pain that can be episodic
Timing of abdominal pain: often occurs after meals
WHAT ARE IMPORTANT FEATURES OF THE PHYSICAL EXAM?
Vital Signs:
Fever can be present in patients with this condition.
Abdominal Exam:
Right upper quadrant tenderness 
Positive murphy sign 
CLINICAL WORKUP: SERUM STUDIES
CLINICAL WORKUP: IMAGING
Transabdominal Ultrasound:
CLINICAL WORKUP: OTHER
WHAT IS OUR THRESHOLD FOR DIAGNOSING THIS CONDITION?
WHAT ELSE SHOULD WE CONSIDER WHEN THIS DIAGNOSIS IS MADE?
HOW DO WE MANAGE A PATIENT WITH THIS DIAGNOSIS?
WHAT IS THE PROGNOSIS FOR A PATIENT WITH THIS DIAGNOSIS?
COULD THIS CONDITION HAVE BEEN PREVENTED?
ARCHIVE OF STANDARDIZED EXAM QUESTIONS 
This archive compiles standardized exam questions that relate to this topic.
FURTHER READING
DynaMed
UpToDate
Page Updated: 01.29.2017