OVERVIEW
Primary sclerosing cholangitis is a condition characterized by scarring and inflammation of the bile ducts.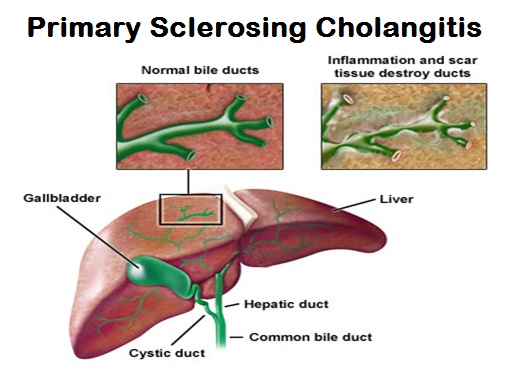 WHAT CAUSES IT?
The underlying etiology of this condition is idiopathic.
WHY IS IT A PROBLEM?
This is a progressive process that can lead to complication of cholestasis as well as hepatic failure.
WHAT MAKES US SUSPECT IT?
Risk Factors:
Initial Presentation
Asymptomatic: many patients are asymptomatic at the time of diagnosis.
Jaundice
Pruritus
CLINICAL WORKUP
Serum Studies:
Liver Function Tests:
MRCP
HOW DO WE TREAT IT?
Palliative Treatment:
Ballon dilation with a stent placement can be done.
Curative treatment:
This will depend on the location of the strictures:
Intrahepatic requires a liver transplant
Extra hepatic: hepatoenteric anastomosis with removal of the extrahepatic ducts and T-tube placement for external drainage of bile.
ARCHIVE OF STANDARDIZED EXAM QUESTIONS
This archive compiles standardized exam questions that relate to this topic.
Page Updated: 01.22.2017