OVERVIEW
Ascending Cholangitis (also called acute cholangitis or simply "cholangitis") refers to an infection (and of course inflammation) of the bile duct.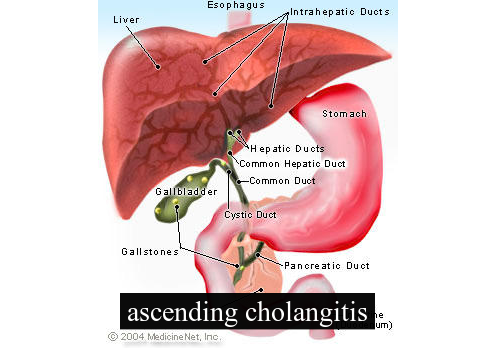 WHAT CASUES IT?
Given its name (ascending) most commonly bacteria ascending from the duodenum (into the biliary tree) are responsible for causing this condition. This can be secondary to iatrogenic manipulation of the biliary ducts, or a gallstone in the biliary ducts.
WHAT MAKES US SUSPECT IT?
Initial Presentation:
Vital Signs:
Fever can be present given this is an infectious process
Dermatological Exam:
Abdominal Exam:
Abdominal tenderness: can commonly be in the right upper quadrant.
CLINICAL WORKUP
Serum Studies:
Complete Blood Count:
Elevated white count is often present (given infectious process)
Liver Function Tests:
Elevated bilirubin can be present
Elevated alkaline phosphatase
Culture:
Bile cultures can be positive in many patients.
Imaging Studies:
Abdominal CT
Magnetic Resonance Cholangiography 
ERCP
PTHC
HOW DO WE TREAT IT?
Antibiotics: 
Biliary drainage:
ARCHIVE OF STANDARDIZED EXAM QUESTIONS 
This archive compiles standardized exam questions that relate to this topic.
Page Updated: 01.22.2017