OVERVIEW
This page is dedicated to covering the important radiological finding of a pneumomediastinum.
WHAT IS IT?
A pneumomediastinum refers to a finding on a chest X-ray where air is found in the mediastinum.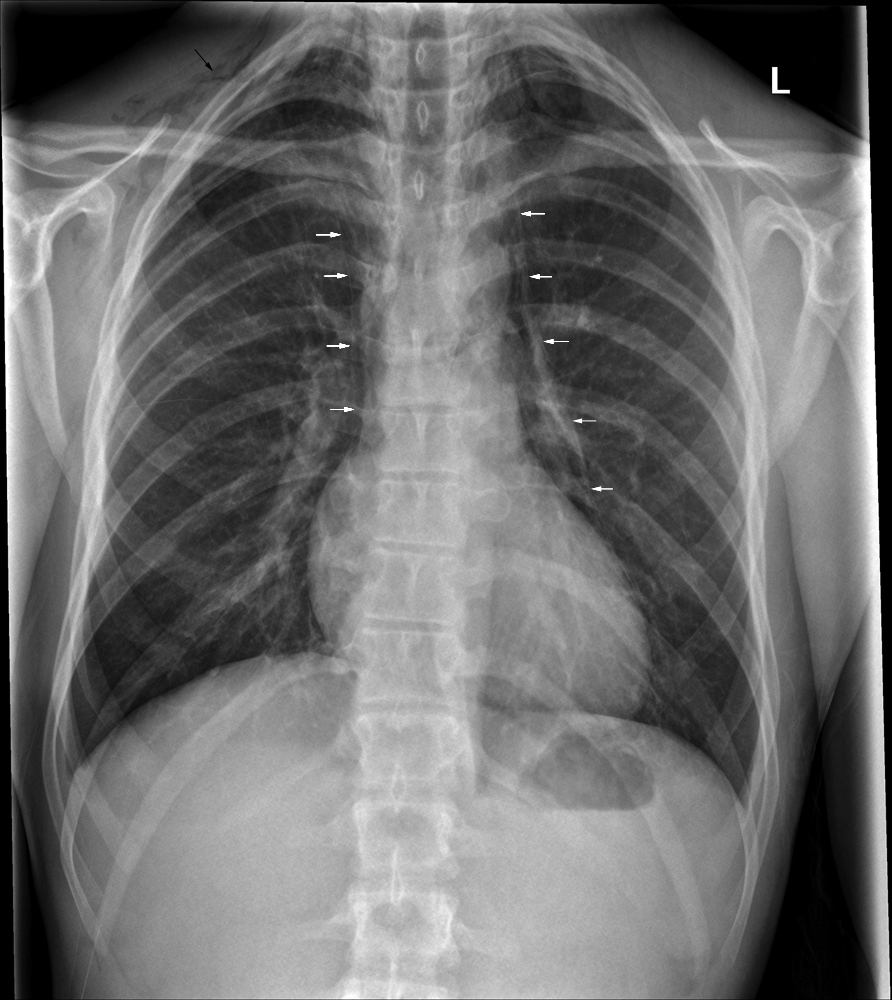 There can be a few different findings that are described as pneumomediastinum:
Linear streak like lucency associated with a thin white line that is alongside the left heart border
Streaky air outlining the great vessels (aorta, superior vena cava, carotid arteries)
Linear streaks of air parallel to the spine in the upper thorax/neck (surround the esophagus and trachea)
DIFFERENTIAL DIAGNOSIS FOR THIS FINDING
When seeing a pneumomediastinum, it is important to keep in mind the following possible causes of this finding:
Rupture of alveoli: can be caused by pulmonary interstitial emphysema
Rupture of distal esophagus: this can be secondary to very forceful retching/vomiting (Boerhaave syndrome), instrumentation
Rupture of the tracheobronchial tree: iatrogenic causes (traumatic intubation), penetrating wounds, severe blunt trauma.
Pneumoperitoneum: secondary to things such as laparoscopy
KEY FEATURES TO LOOK FOR WHEN CHARACTERIZING THE FINDING
When seeing a pneumomediastinum, there are a few important radiological features one should look at to try and characterize the finding. These features can help navigate the differential diagnosis above.
Page Updated: 01.07.2016