WHAT IS IT?
Turner syndrome is a genetic condition where instead of an individual being a 46 XX genotype (normal female), the are instead a 45 XO. This means they only have a single X chromosome. Meiotic disjunction is most often the cause of this chromosomal loss. It can be mosaic where not all cells have lost the X chromosome.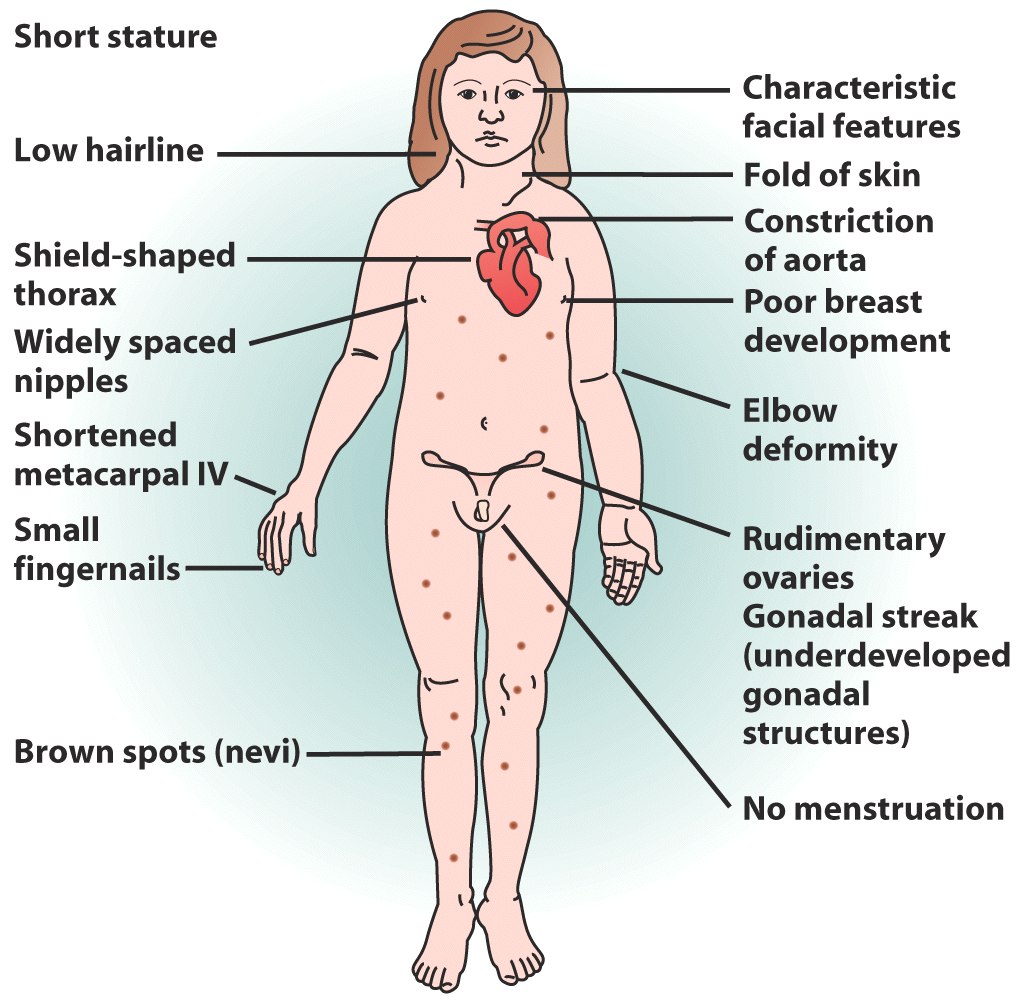 WHY IS IT A PROBLEM?
The absence of the second X chromosome can cause a wide variety of problems (explained more below), however one characteristic finding are the lack of developed ovaries (termed "streak" gonads) which will cause sterility, a lack of estrogen, and absent sexual development (sexual infantilism).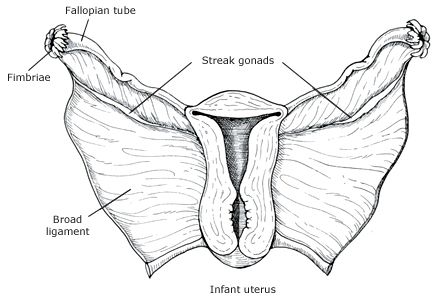 Furthermore, the loss of the X chromosome results in a missing SHOX gene which is responsible for long bone growth (which explains why patients have short stature).
WHAT MAKES US SUSPECT IT?
Risk Factors:
No clear risk factors established (and no familial inheritance identified)
Initial Presentation:
Infertility
Absent/delayed puberty
Swelling of hands/feet
Physical Examination:
Vital Signs:
Signs of aortic coarctation: Higher blood pressure in upper extremities, lower blood pressure in lower extremities
Short stature: lower percentile for height in growth curves.
General Exam:
Broad "shield-like" chest
Lymphedema of hans/feet
HEENT Exam:
HOW DO WE CONFIRM A DIAGNOSIS?
Hormone levels: patients with this condition will have elevated FSH and LH due to decreased feedback inhibition (streak ovaries will not produce much estrogen)
Genetic analysis: Given that this is a genetic condition, while physical exam findings can help us suspect the condition, we must do karyotype analysis showing either partial or complete loss of an X chromosome in order for a definitive diagnosis.
HOW DO WE TREAT IT?
While there is nothing that can be done to directly address the loss of the X chromosome, hormone replacement therapy can be used (such as growth hormone treatment) to help patients better develop more normally.
HOW WELL DO THE PATIENTS DO?
99% of fetuses with 45,X karyotype abort spontaneously (source)
Life expectancy typically decreased due to complications of heart disease and diabetes. Mean age at death 28 years, with age of death ranging from birth to 80 years reported in case series of 532 patients (source)
WAS THERE A WAY TO PREVENT IT?
While the condition itself can not be prevented, diagnosis may be made prenatally by fetal karyotyping of fetal cells obtained by amniocentesis or by percutaneous umbilical blood sampling. This can help patients better prepare for what types of medical obstacles might be on the horizon for themselves.
WHAT ELSE ARE WE WORRIED ABOUT?
Infertility: while generally speaking these patients are thought to be infertile, it is important to realize that they can bring a child to term if an oocyte is donated and they are given hormone replacement therapy (estrogen/progesterone). It is important to inform patients about this fact!
Patients with Turner syndrome are at risk for the following:
Coarctation of aorta: this is simply narrowing of the aorta. Murmur might be heard on physical exam, and pulses (such as the femoral etc) can be diminished on the physical exam.
Bicuspid aortic valve: an aortic valve that only has 2 leaflets.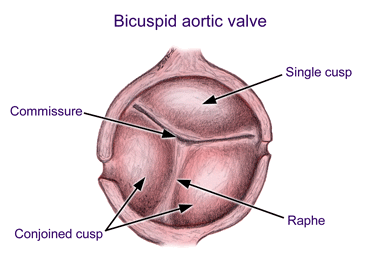 OTHER HY FACTS?
Elevated FSH/LH: Because of the nonfunctioning ovaries, there is decreased estrogen and increased FSH and LH (which would be inhibited normally by estrogen).
A shortened 4th metacarpal is a possible physical exam finding (board buzzword)
Horseshoe kidneys: kidneys that are functioning but connect at the midline (isthmus). Can be observed on imaging.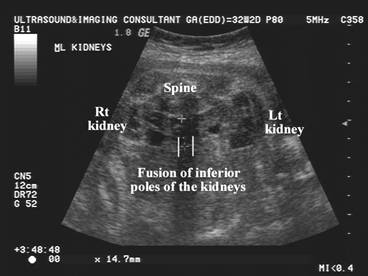 Cystic hygroma: a lymphatic lesion that will result in a observable mass, often times in the posterior neck in newborns. This is generally caused by some blockage of lymphatic vessels.
ARCHIVE OF STANDARDIZED EXAM QUESTIONS
This archive compiles standardized exam questions that relate to this topic.
Page updated: 03.03.2016