OVERVIEW
Asthma refers to type of reactive airway disease that is characterized by inflammation of the airways and reversible airflow obstruction.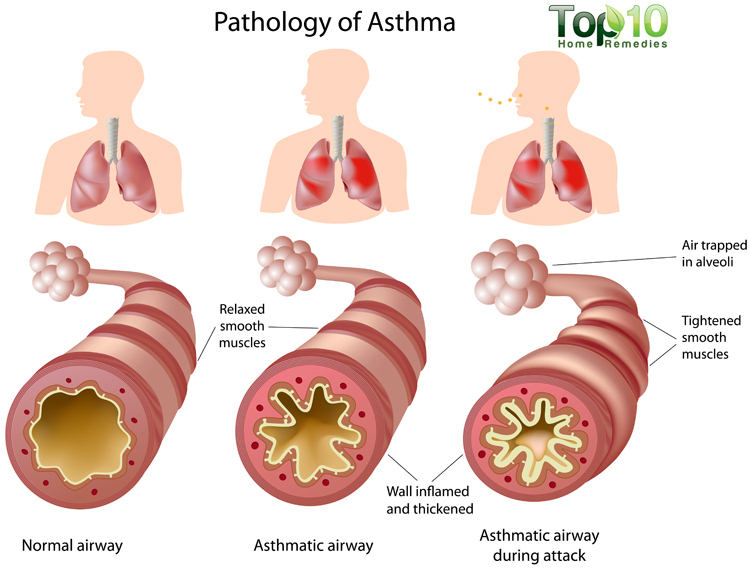 WHAT CAUSES IT?
Asthma can be caused by various "triggers"
Allergens: most cases of asthma are allergic (atopic) asthma caused by specific allergens. This is a type 1 hypersensitivity reaction.
Viral infections: viral associated asthma is also possible
Exercise: exercise induced asthma can also occur in certain cases.
WHY IS IT A PROBLEM?
These inflammatory changes in the airways can make breathing difficult and can lead to respiratory distress.
WHAT MAKES US SUSPECT IT?
Risk Factors:
Initial Presentation:
Shortness of breath/dyspnea 
Cough
Wheezing 
Chest tightness 
History Of Present Illness:
Recurrent pattern of respiratory symptoms without any other cause
Timing: episodes may occur at night and awaken the patient
Respiratory Exam (Physical Exam):
Usage of accessory muscles may be apparent during an asthma attack/episode
Wheezing may be auscultated during the exam
CLINICAL WORKUP
Response to treatment: often times patients will be given a trial of anti-asthma treatments, and improvement will support the diagnosis of asthma.
Spirometry (pulmonary function testing) can help make the diagnosis (but is not required) by showing:
Reversible airway obstructive disease: patients with asthma should have their condition significantly improved with the usage of bronchodilators.
AT WHAT POINT DO WE MAKE THE FORMAL DIAGNOSIS?
Generally speaking there are three criteria that are used to try and establish a "formal" diagnosis of asthma.
Recurrent symptoms of respiratory disease (i.e. cough, wheezing, etc)
Obstructive airway disease that is partially reversible
Symptoms unexplained by a reason other then asthma
HOW DO WE TREAT IT?
Short acting inhaled beta-agonist:
Page Updated: 12.06.2016