OVERVIEW
An anal fistula (anorectal fistula) refers to an abnormal connection between the epithelialised surface of the anal canal and (often) the perianal skin.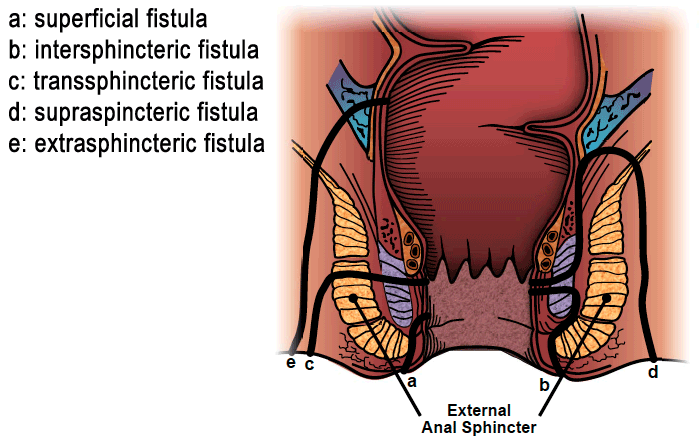 WHAT CAUSES IT?
The most common cause of an anorectal fistula is a anorectal abscess. With this in mind there can be other causes of anorectal fistulas that include:
Pelvic carnation
Rectal foreign bodies
WHAT MAKES US SUSPECT IT?
Risk Factors:
Anorectal abscess
Initial Presentation:
Pustule-like lesion in the perianal/buttock area. This can drain purulent materials/blood
Rectal pain that can occur with sitting/activity/defacation.
History Of Present Illness:
Timing of symptoms: patients may experience intermittent and malodorous perianal drainage/itching. This is because the fistula will collect with material over time, and the reach a point at which it will burst and leak into the anal region. Then the anal component of the fistula will heal and the process will begin again all over.
Genitourinary Exam (Physical Exam):
Visible pustule in the genital/anal region: often times in close proximity to the anus. May be leaking purulent material during time of the exam.
Page Updated: 12.05.2016