OVERVIEW
This page is dedicated to providing a practical guide to how one should pick the correct antibiotic(s) to use in the setting of Streptococcus pharyngitis.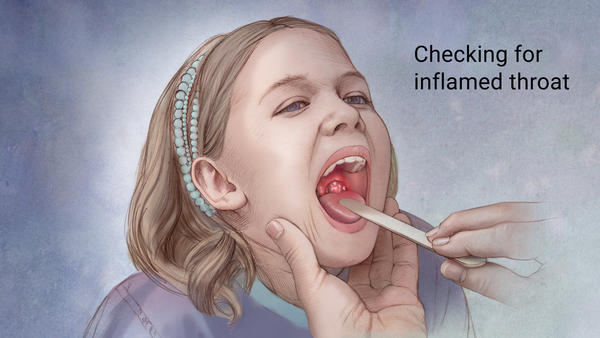 WHAT IS

STREPTOCOCCUS PHARYNGITIS?
Streptococcus pharyngitis (strep throat) is a bacterial infection that involves the pharynx.
HOW DO WE DECIDE THAT A PATIENT HAS

STREPTOCOCCUS PHARYNGITIS?
The diagnosis of Streptococcus pharyngitis is generally given to patients who have a positive result for either a rapid strep test or a bacterial throat culture.
If the rapid strep test is positive often this will be enough to make the diagnosis of strep throat.
If the rapid strep test is negative backup cultures will be sent to assess for a strep infection.This is because the rapid strep test is not very sensitive (and may miss many cases of Streptococcus pharyngitis).
In some cases the diagnosis will be given in the absence of any positive diagnostic testing. This may be done if the clinical suspicion is high enough and waiting for bacterial cultures in order to treat with antibiotics is contraindicated in the patient (in some cases the infection is serious enough that waiting a few days for cultures to grow is not clinically advisable).
WHAT ARE THE LIKELY PATHOGENS THAT CAUSE STREPTOCOCCUS PHARYNGITIS?
Before talking about specific antibiotics we need to appreciate the pathogens that will most commonly cause Streptococcus pharyngitis (because these dictate what treatments are worth giving!). The below are the most common bacterial pathogens that are responsible for commonly causing this type of infection.
STARTING ANTIBIOTIC THERAPY:WHY DO WE TREAT IT?
This condition is treated to avoid the development of acute rheumatic fever.
STARTING ANTIBIOTIC THERAPY: WHAT ARE THE TREATMENT OPTIONS?
In addition to the most common pathogens that cause this condition, the allergies of the patient will also dictate what medications are prescribed to treat the Streptococcus pharyngitis. Treatment choices are listed below based upon the allergy status of the patient.
If patients do not have a penicillin allergy:
Penicillin V is given as a first-line treatment
Amoxicillin can also be used as a first-line treatment (more palatable to children)
If patients do have a penicillin allergy, but not an immediate-type hypersensitivity reaction:
If patients do have a penicillin allergy that is an immediate-type hypersensitivity reaction:
Page Updated: 12.05.2016