OVERVIEW
Necrotizing enterocolitis refers to a gastrointestinal emergency in neonates that is characterized by acute intestinal necrosis.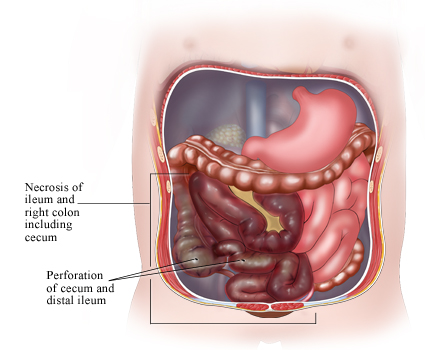 WHAT CAUSES IT?
Bowel ischemia and bacterial invasion are responsible for this condition.
WHAT MAKES US SUSPECT IT?
Risk Factors:
Premature gut
Initial Presentation:
Bloody diarrhea in a neonate
CLINICAL WORKUP
X-Ray imaging can demonstrate the presence of:
Pneumocystis intestinalis 
HOW DO WE TREAT IT?
Supportive measures:
Patines is made NPO
TPN given if necassary
Control of infection:
Surgical intervention:
Resection of necrotic bowel
Page Updated: 12.01.2016