WHAT IS IT? 
Tumor lysis syndrome is the abrupt release of cell components into the blood stream after rapid lysis of tumor cells (that can be caused by therapeutic treatments).
WHY IS IT A PROBLEM?
Because of the specific nature of these cellular components (i.e. cells have intracellular potassium), this condition can cause hyperuricemia, hyperkalemia, hyperphosphatemia, and/or hypocalcemia. These changes in serum chemistry can in turn cause renal failure, cardiac arrhythmia, seizure, or death.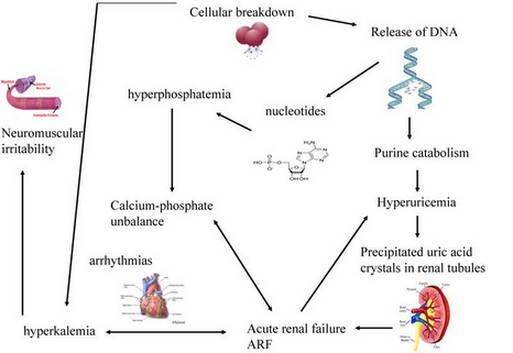 WHAT MAKES US SUSPECT IT?
Risk factors: cytotoxic treatment for leukemias/lymphomas
Symptoms may include: timing of onset is usually within 12-72 hours after start of chemotherapy but can be earlier
Nausea, vomiting, diarrhea
Weakness
Edema
Hematuria
Heart palpitations
Dyspnea
Seizures
Neuromuscular irritability (muscle twitches/spasms)
Cardiac arrhythmias can often be heard on exam
HOW DO WE CONFIRM A DIAGNOSIS?
Laboratory diagnosis of tumor lysis syndrome  ≥ 2 of the following serum chemistry abnormalities, within 3 -7 days after start of chemotherapy:
Hyperuricemia
Hyperkalemia
Hyperphosphatemia
Hypocalcemia
Clinical diagnosis requires laboratory diagnosis plus ≥ 1 off:
renal failure
cardiac arrhythmia
seizure
HOW DO WE TREAT IT? 
*All patients with tumor lysis syndrome should be treated immediately after hospital admission by eliminating all sources of potassium, limiting phosphorous intake, and aggressive IV hydration + diuretics (to rid the body of potassium)
Rasburicase  (for hyperuricemia) catalyzes enzymatic oxidation of poorly soluble uric acid into the inactive/more soluble metabolite allantoin which ultimately allows the body to rid itself of uric acid.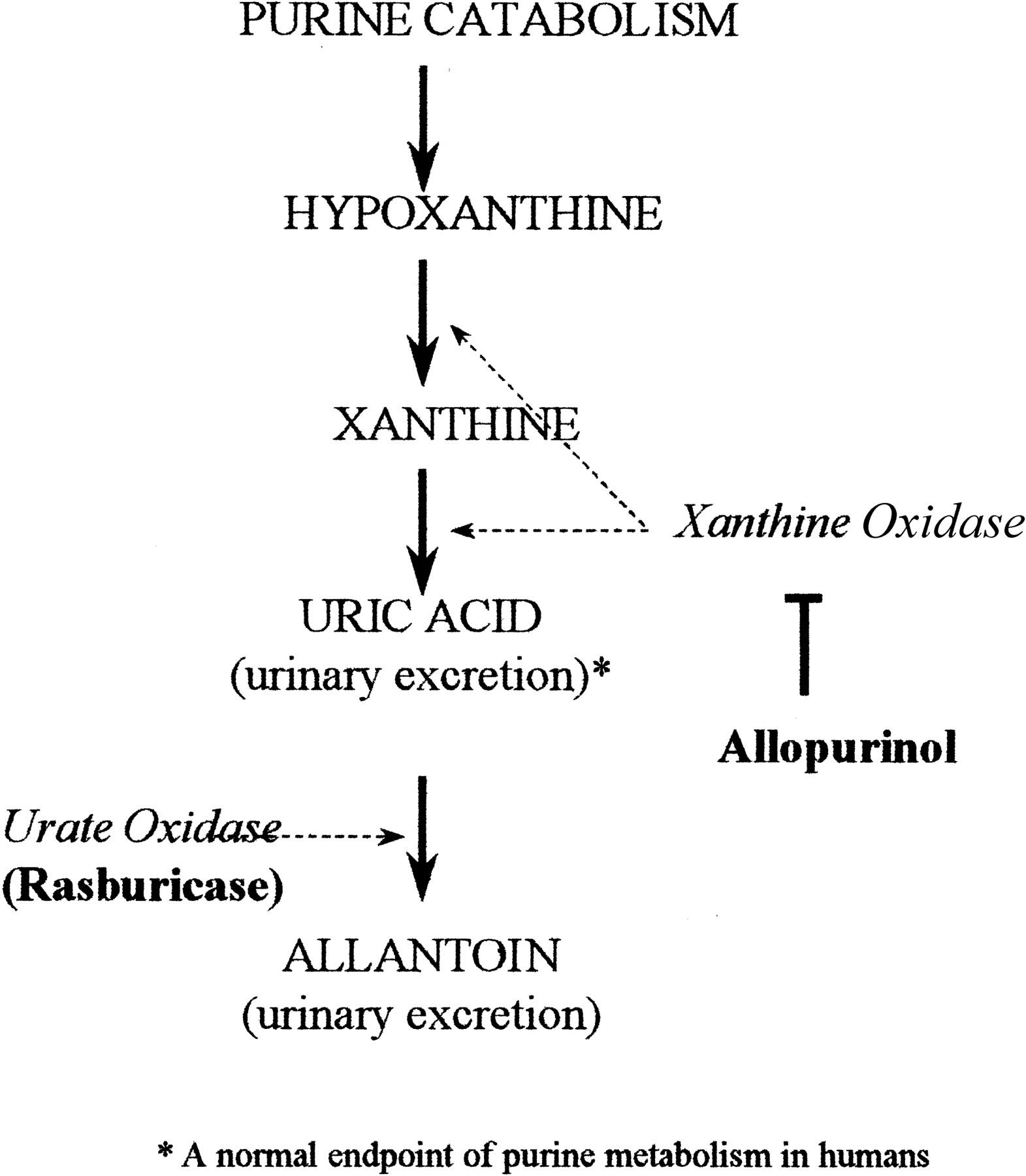 Calcium gluconate, Insulin, and sodium bicarbonate can all be used to address the hyperkalemia.
Calcium gluconate does not lower the levels of potassium in the serum, but reduces the excitability of the cardiomyocytes
Insulin will increase cellular uptake of potassium
Shifts potassium from extracellular to intracellular by increases blood pH
Aluminum hydroxide (hyperphosphatemia) is a phosphate binder that can be used to lower serum levels of free phosphate
Calcium gluconate can also be used for hypocalcemia (directly will raise levels of serum calcium by IV injection)
**Renal replacement therapy (such as dialysis) may be needed in certain cases 
HOW WELL DO THE PATIENTS DO?
The development of tumor lysis syndrome does not affect the cancer prognosis of patients, however it does carry a significant mortality risk.
WAS THERE A WAY TO PREVENT IT? 
Yes. Patients each carry a their own risk of tumor lysis syndrome (those with higher tumor burdens are at higher risk, and certain diseases such as Burkitt's lymphoma have a higher risk as well). For patients who are at high risk, IV hydration and rasburicase can be given preventatively.
WHAT ELSE ARE WE WORRIED ABOUT? 
Sudden death is a possible outcome of tumor lysis syndrome.
OTHER HY FACTS?
Hematologic malignancies are associated with higher risk of tumor lysis syndrome compared to solid tumors.
The higher the patients tumor burden, the more at risk they are for developing tumor lysis syndrome post chemo.
FURTHER READING
Page Updated: 01.19.2016