OVERVIEW
Duodenal atresia refers to the the congenital absence or complete closure of a portion of the lumen of the duodenum. 
WHAT MAKES US SUSPECT IT?
Initial Presentation
Bilious vomiting: typically in first 2 days of life.
Polyhydraminos on prenatal ultrasound.
CLINICAL WORKUP
X-ray can show a "double bubble" sign that shows air trapped in the stomach and the first portion of the duodenum.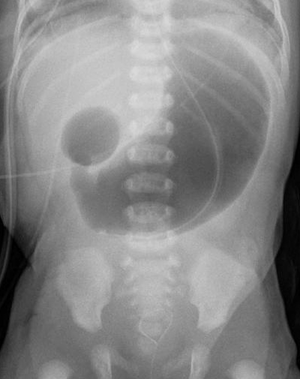 TREATMENT
Holding feeds
Compression with nasogastric tube
Surgical repair 
ARCHIVE OF STANDARDIZED EXAM QUESTIONS 
This archive compiles standardized exam questions that relate to this topic.
Page Updated: 11.23.2016