WHAT IS IT?
Hashimoto thyroiditis is an autoimmune disorder where initially CD8+ cytotoxic T cells directly attack the thyroid. This is both a type IV and type II hypersensitivity reaction (explained more below). It is a type of hypothyroidism.
WHY IS IT A PROBLEM?
Initially the T-cells destroy thyroid cells (type IV hypersensitivity), which releases contents of these cells are released into the blood stream (such as thyroglobulin, microsomal, and thyroperoxidase). The components are usually never seen by the immune system, so auto-antibodies are made against them (type II hypersensitivity) that leads to the further destruction of the thyroid. Initially as the follicles of the thyroid rupture this can present as hyperthyroidism, but eventually it progresses to hypothyroidism.
WHAT MAKES US SUSPECT IT?
Risk factors: DR3 and DR5 HLA, middle aged woman, family history of autoimmune thyroiditis (seems inherited in a dominant fashion)
Symptoms of hypothyroidism: lethargy, constipation, weight gain, cold intolerance, facial puffiness, dry skin, hair loss, hoarseness
Enlarged thyroid that is not tender can be appreciated on physical exam.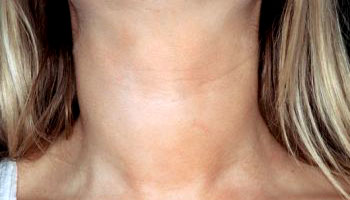 HOW DO WE CONFIRM A DIAGNOSIS?
Serology can reveal the following findings:
Decreased T4 levels
Increased TSH
Antithyroid peroxidase antibodies (usually diagnostic) are present in almost all patients (other anti-thyroid antibodies can be present as well).
Biopsy: Hürthle cells are observed (which are eosinophillic metaplastic cells that line the follicles) and lymphoid aggregates with germinal centers can be observed. Biopsy is usually reserved for patients with suspicious nodules.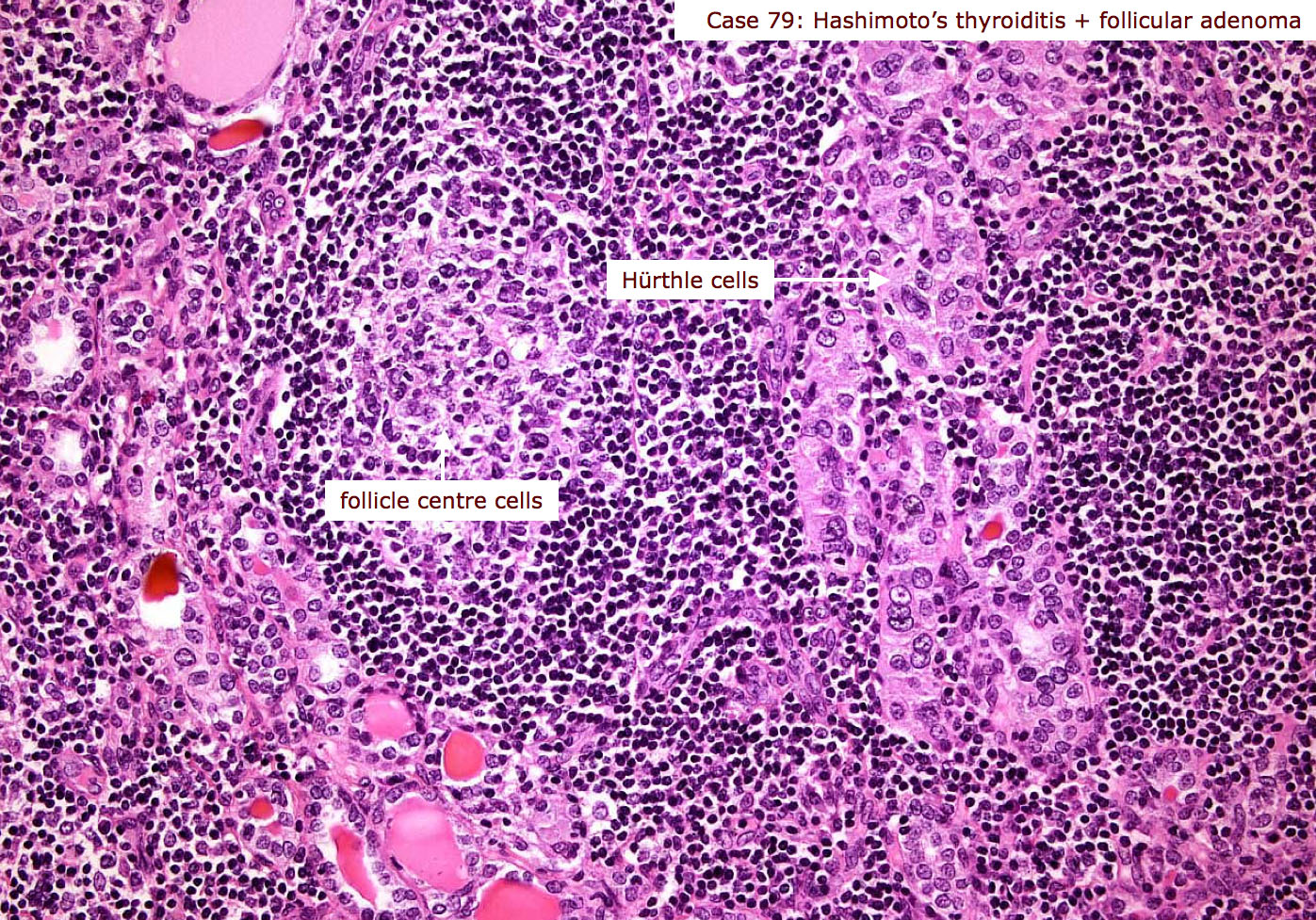 HOW DO WE TREAT IT?
Synthetic L-thyroxine (levothyroxine, T4) is drug of choice for thyroid hormone replacement therapy.
Thyroidectomy: for patients unresponsive to hormone replacement therapy.
Iodine restriction might correct thyroid issues (lacks direct evidence)
HOW WELL DO THE PATIENTS DO?
Many patients are asymptomatic, and the condition can be managed well with hormone replacement therapy.
WAS THERE A WAY TO PREVENT IT?
No clear means of preventing this auto-immune disease
WHAT ELSE ARE WE WORRIED ABOUT?
Lymphoma (non-Hodgkin) is associated with Hashimoto thyroiditis because this condition can predispose the patient to lymphoma.
OTHER HY FACTS?
Most common cause of hypothyroidism in iodine-sufficeint regions.
This condition can actually be hyperthyroidism early on because of follicular rupture.
ARCHIVE OF STANDARDIZED EXAM QUESTIONS
This archive compiles standardized exam questions that relate to this topic.
FURTHER READING
Page Updated: 01.18.2016