OVERVIEW
Septic arthritis refers to the literal infection of a joint.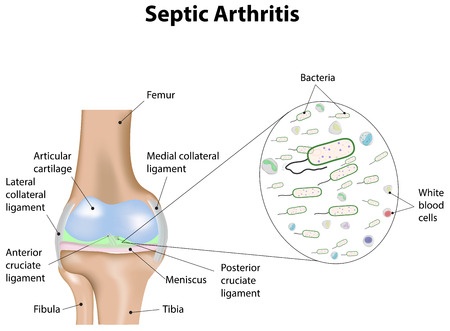 WHAT CAUSES IT?
The most common causal organisms of septic arthritis are Staphylococcus aureus and streptococci. 
WHY IS THIS A PROBLEM?
An infection of the joint can lead to joint destruction.
WHAT MAKES US SUSPECT IT?
Initial Presentation
Joint pain may be experienced by the patient
Limp can sometimes be observed (depending on the joint involved)
Refusal to walk can occur in younger patients
Vital Signs:
Fever can often accompany this type of infection
Musculoskeletal Exam (Physical Exam):
Erythematous joint 
Swollen joint
Tender joint
CLINICAL WORKUP
Serum Studies:
Increased white count can be seen on a CBC
Elevated CRP/ESR would be expected if these tests are ordered
Joint aspiration can reveal the following findings:
Opaque appearance (can be turbid)
Elevated WBC count (~50,000 – 150,000)
Gram stain may reveal the presence of bacteria.
Bacterial culture:
Joint fluid culture can be collected to try and "grow out" causal pathogen
Bacterial cultures can be collected to evaluate for bacteremia.
HOW DO WE TREAT IT?
Broad spectrum antibiotics (i.e. vancomycin) are often administered immediately before culture collection.
ARCHIVE OF STANDARDIZED EXAM QUESTIONS 
This archive compiles standardized exam questions that relate to this topic.
Page Updated: 11.18.2016