OVERVIEW
Pertussis (whooping cough) refers to a respiratory illness that is caused by the Bordetella pertussis bacteria. It is a highly infectious form of bronchitis.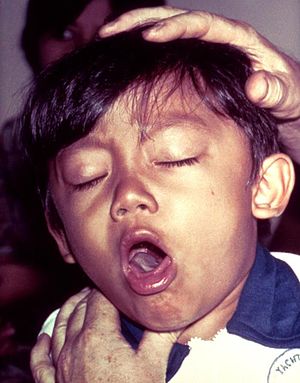 WHAT MAKES US SUSPECT IT?
Risk Factors:
Young infants ( < 6 months old)
Initial Presentation:
Prolonged cough ( can last for > 2 weeks)
Episodes of coughing
CLINICAL WORKUP
Complete Blood Count (CBC):
Elevated white count (lymphocytosis) may be observed (caused by pertussis toxin)
Chest X-Ray: perihilar infiltrate/edema can sometimes be seen on a chest X-ray.
Immunofluorescence (IF): testing of nasopharyngeal secretions with IF can help make this diagnosis.
PCR: PCR testing of a swabbed sample (nasopharyngeal secretions) can help make this diagnosis.
HOW DO WE PREVENT IT?
DTaP Vaccine/DTP Vaccine: these vaccines are used to prevent the development of this condition.
Pertussis post-exposure prophylaxis:
ARCHIVE OF STANDARDIZED EXAM QUESTIONS
This archive compiles standardized exam questions that relate to this topic.
Page Updated: 11.14.2016