WHAT IS IT?
Graves disease is the most common cause of hyperthyroidism and is a Type II hypersensitivity reaction. Autoantibodies (IgG) target and stimulate the TSH (thyroid stimulating hormone) receptors on the thyroid causing this condition.
WHY IS IT A PROBLEM?
Chronic stimulation of these TSH receptors causes hyperthyroidism and a diffuse goiter. TSH activation also leads to glycosaminoglycan buildup (important component of the connective tissue), fibrosis, inflammation, and edema (which all lead to certain exam findings). Lymphocytes infiltrate the orbital tissue and surrounding fibroblasts are stimulated in this disease, which leads to extraoclular muscle swelling and protrusion of the eyes.
WHAT MAKES US SUSPECT IT?
Risk factors: DR3 HLA subtype, B8 HLA subtype, women of childbearing age
Chief complaints: many different symptoms can be experienced by this conditoin
Palpitations
Fatigue
Increased sweating/heat intolerance
Insomnia
Thirst
Exam findings: tachycardia, systolic hypertension, fever can suggest thyroid storm (see more below), proximal/general muscle weakness
Neurologic: nervousness, depression, inability to concentrate, tremor
Exophthalmos: abnormal protrusion of the eyes. This can get so severe it even causes blindness.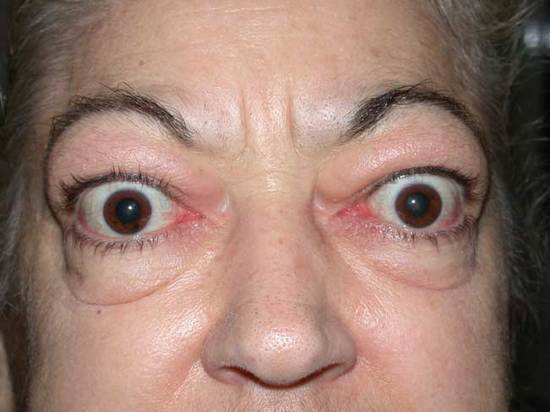 Pretibial myxedema: swelling of the skin and the tissues underneath giving a waxy appearance (localized over the tibia in patients). This is essentially cutaneous/dermal edema that is caused by connective tissue deposition.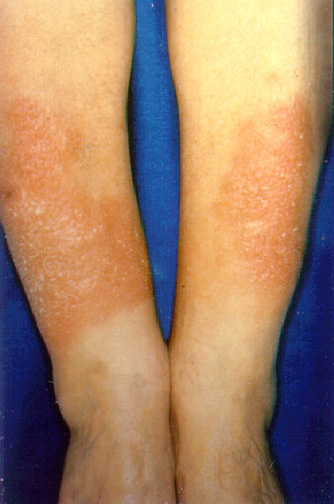 Diffuse goiter: thyroid hyperplasia and hypertrophy can be detected on physical exam.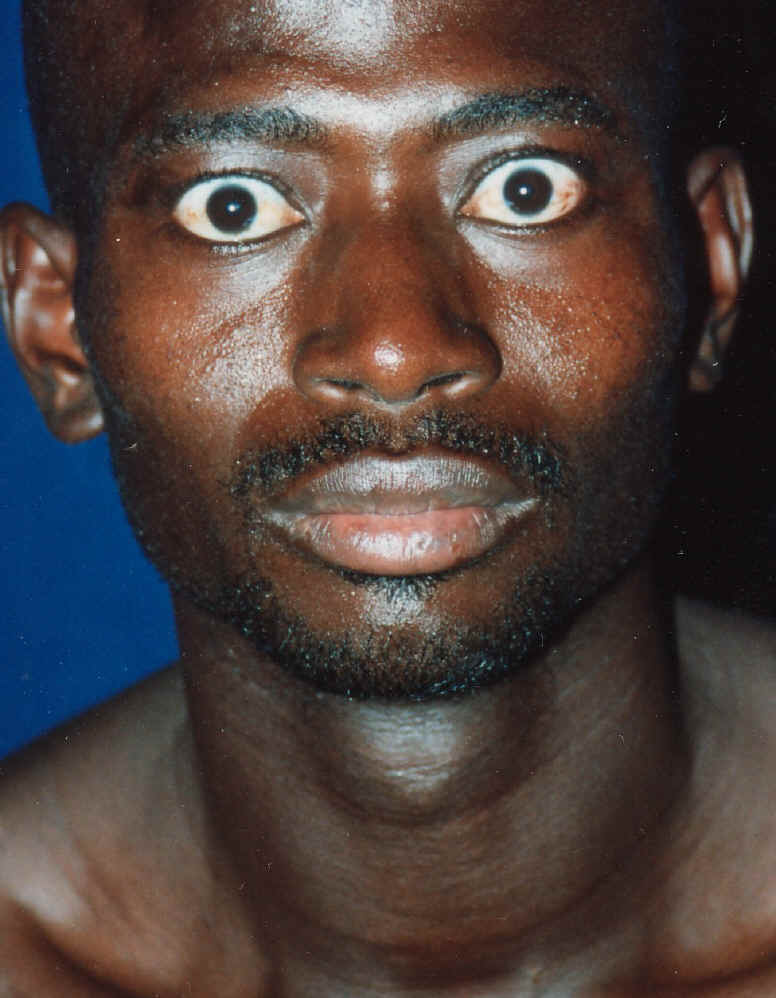 HOW DO WE CONFIRM A DIAGNOSIS?
Serum analysis:
Increased total and free T4 hormone
Increased T3 levels
Decreased TSH (free T4 antagonizes TSH release)
Hypocholesterolemia
Increased serum glucose
Radioactive uptake: radioactive iodine is given to patients, and those with Graves disease will have increased uptake. The thyroid hormones (T4/T3) require iodine for their production, and given that Graves has increased production of these hormones, it is intuitive that it would have a greater demand for iodine.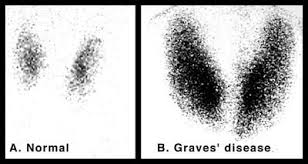 Thyroid ultrasound can be used to visualize the enlarged thyroid gland.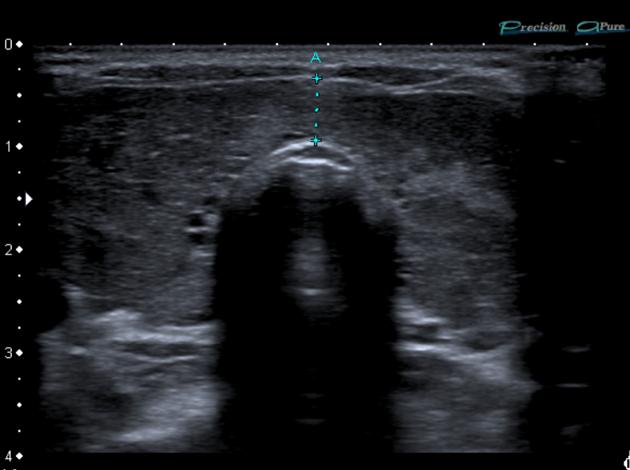 Histology: Ultrasound can also be used to collect a fine needle biopsy of the tissue. Can observe irregular follicles that have decreased colloid (the fluid within the follicles that contains thyroglobulin, which in turn is a protein needed by the thyroid to produce thyroid hormones). Chronic inflammation can also be seen in the biopsy.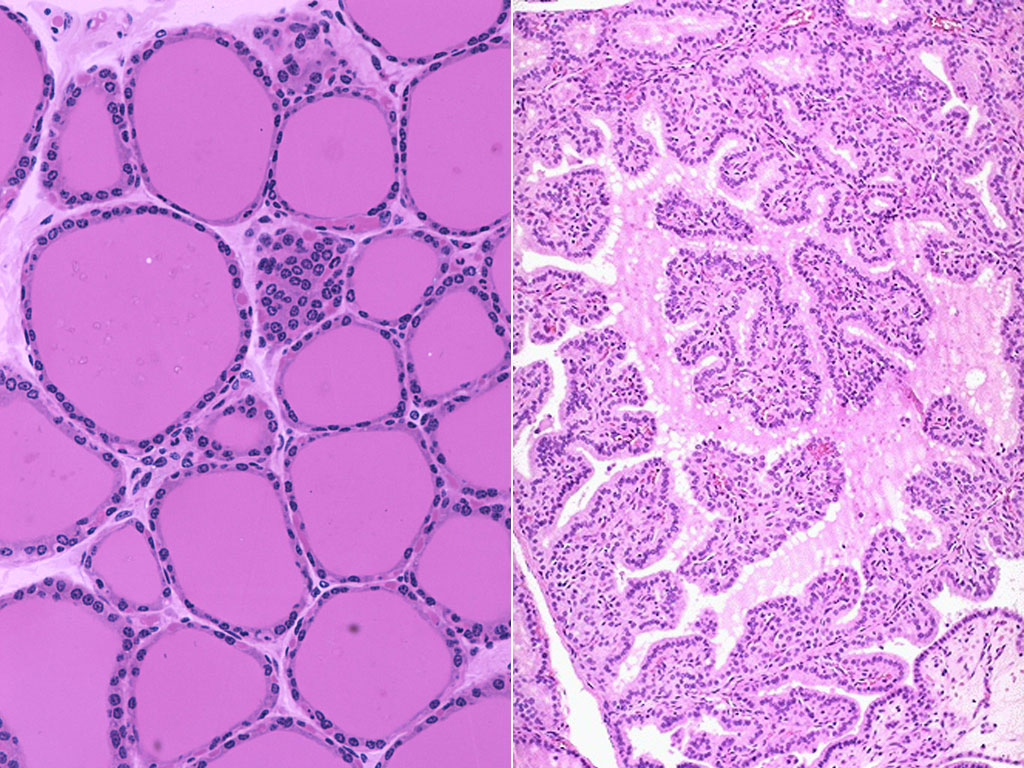 HOW DO WE TREAT IT?
Beta blockers: can be used for some of the symptoms of hyperthyroidism (high blood pressure, etc.)
Antithyroid medications (methimazole): this drug belongs to the thioamide group and inhibits the enzyme thyroperoxidase, which normally acts in thyroid hormone synthesis (both T3 and T4).
Radioiodine ablation: radioiodine 131 can be administered to target the thyroid tissue (if antithyroid medications are contraindicated).
Thyroidectomy: In certain cases (such as a very large goiter) the thyroid can be removed.
HOW WELL DO THE PATIENTS DO?
Up to 30% achieve remission without treatment (source)
30%-50% remission reported after treatment with antithyroid medication, more then half of patients relapse (source)
WAS THERE A WAY TO PREVENT IT?
*No clear means of prevention
Consider measuring thyroid-stimulating hormone (TSH) in persons > 70 years old the following presentations (source):
anorexia with wasting
atrial fibrillation
heart failure
If decreased levels further investigate possibly of Graves.
WHAT ELSE ARE WE WORRIED ABOUT?
Thyroid storm: this is a potentially fatal complication. Caused by elevated catecholamines/massive hormone excess, usually in response to stress (such as surgery or childbirth). It presents as arrhythmia, hyperthermia, and vomiting with hypovolemic shock.
Treatment: PTU (which inhibits thyroid hormone synthesis and T4 to T3 conversion), beta blockers, and steroids.
Neonatal hyperthyroidism: IgG antibodies in the pregnant woman can cross the placental barrier and lead to transient hyperthyroidism in the neonate until this auto-antibody is cleared.
Atrial fibrillation can develop in hyperthyroidism
OTHER HY FACTS?
Stress brings about the presentation of this condition.
ARCHIVE OF STANDARDIZED EXAM QUESTIONS
This archive compiles standardized exam questions that relate to this topic.
FURTHER READING
Page Updated: 01.17.2016