WHAT IS IT?
Multiple myeloma is a cancer derived from antibody producing plasma cells. It arises in the bone marrow and produces large amounts of IgG (most common) or IgA.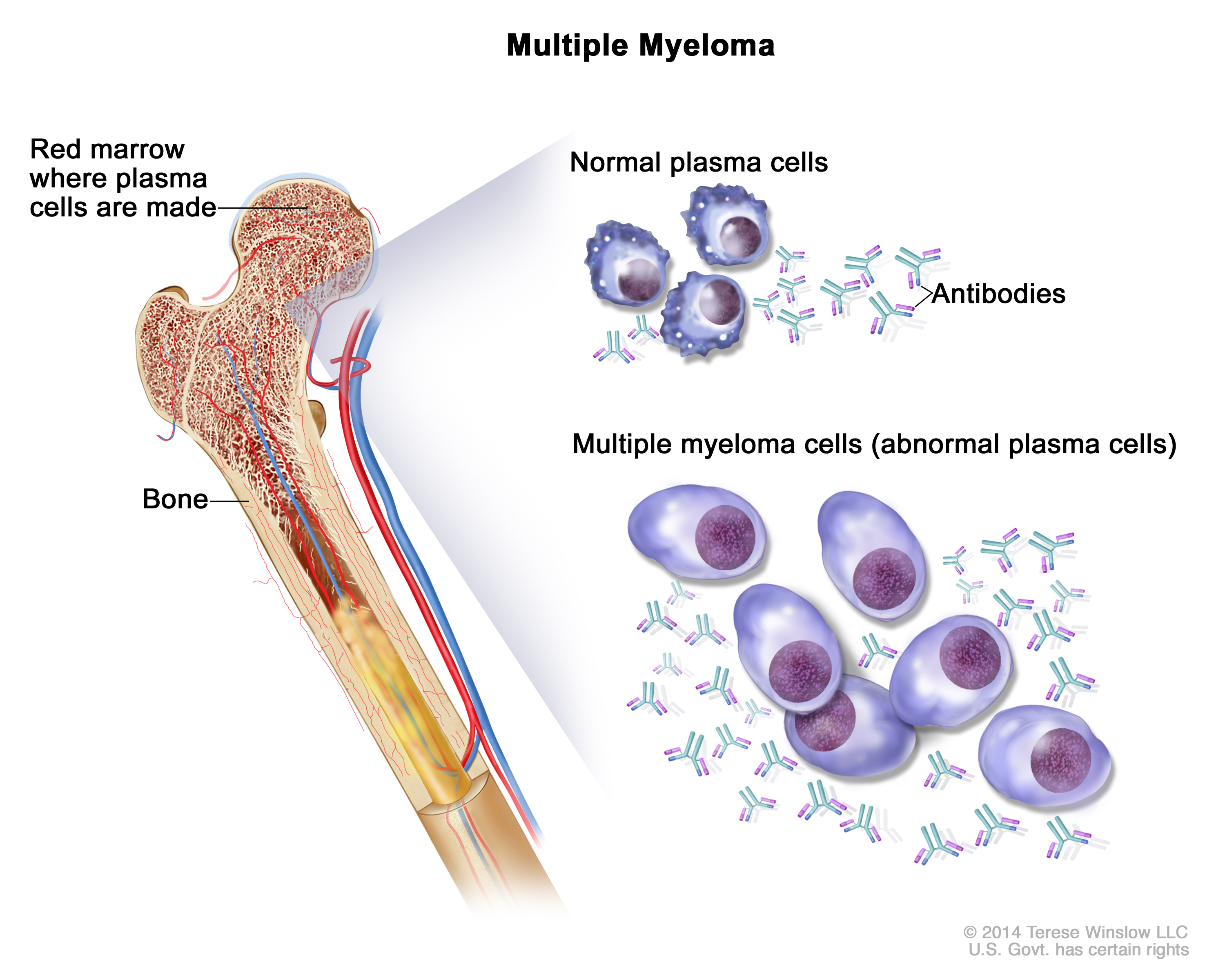 WHAT CAUSES IT?
The exact inciting cause is unknown, however DNA damage is implicated as a factor.
WHY IS IT CONCERNING MEDICALLY?
This disease process can cause a variety of medical complications in those affected. Complications include:
Destruction of bone: the neoplastic plasma cells in multiple myeloma activate osteoclasts using the RANK receptor (via IL-1 or osteoclast activating factor) which in turn promotes bone destruction.
Hypercalcemia: the process of bone destruction is accompanied by the increase of serum calcium.
Predisposition to infection: the immunoglobulins (Ig proteins) produced by the plasma cells lack antigenic variability (are monoclonal), ultimately predisposing the patient to infection.
Kidney damage: these Ig proteins can deposit and aggregate into tissues (such as the kidney) causing damage. Infiltration of malignant plasma cells in the kidney can occur (rarely) which disrupts normal renal cell function.
Anemia: this can be caused as a result of bone marrow infiltration by plasma cells combined with the increased cytokine production by tumor cells (which suppresses the production of red blood cells/RBCs).
**The CRAB acronym is used to remember important points about multiple myeloma: HyperCalcemia, Renal involvement, Anemia, Bone lesions.
WHAT IS THE INTIAL PRESENTATION?
Patient Chief Complaints:
Asymptomatic: many patients will have this condition and not present with any complaints.
Bone pain
Weight loss
Fatigue
Detected Medical Problems:
WHAT ARE IMPORTANT ELEMENTS OF THE MEDICAL HISTORY?
Risk Factors:
African ancestry
Monoclonal gammopathy of undetermined significance (MGUS)
Medical History:
WHAT MAKES US SUSPECT IT?
Bone pain: given that this condition causes lytic bone lesions.
Neurologic findings: many different neurological findings can be caused by the following characteristics of the disease.
Hypercalcemia can cause weakness, confusion, and fatigue in patients with multiple myeloma
Hyper viscosity results from a dramatic increase of Ig in the blood, and can cause headaches, visual changes, and even congestive heart failure.
Cord compression can occur due to extension of tumor cells from vertebral bodies to the spinal cord => pain, incontinence.
Deposition of Ig aggregates/amyloids can result in peripheral neuropathies such as carpal tunnel syndrome
HOW DO WE CONFIRM A DIAGNOSIS?
Urine analysis: Ig light chains can be found in the urine of patients (called Bence Jones protein). Proteinuria can be observed.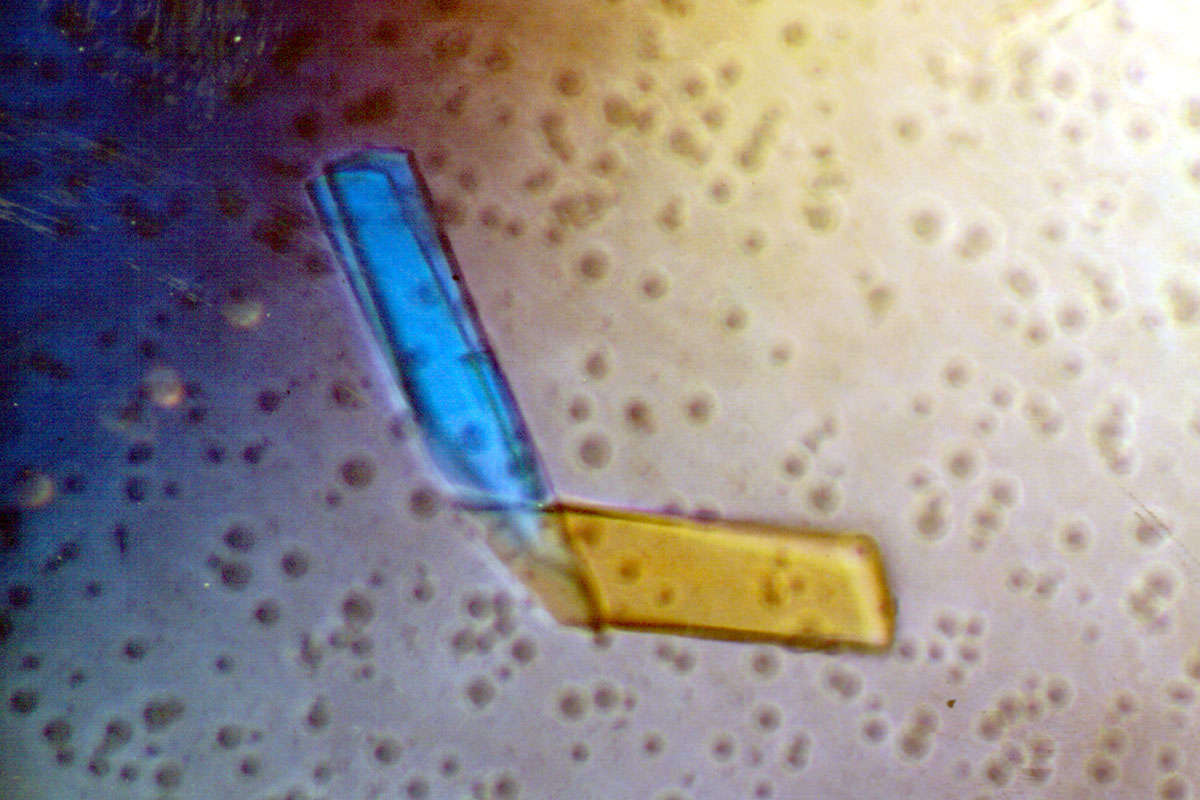 Blood analysis: Hypercalcemia is present due to increased osteoclastic activity. High serum IL-6 is sometimes present (thought to stimulate plasma cell grown/Ig production).
Complete blood count: normocytic anemia can be present
Renal function tests: creatinine levels can be increased (signifying renal failure)
Blood smear: stacks of RBCs can be seen (each stack called a Rouleaux) that resemble stacks of poker chips in appearance. The increase in serum protein (Ig) will decrease charge between RBCs allowing for them to aggregate. This will also cause an elevated ESR.
X-ray: a "punched-out" lytic bone lesion can be seen on x-ray imaging.
Serum electrophoresis: a spike in monoclonal M protein (myeloma protein/antibody) can be seen using this test (either IgG or IgA).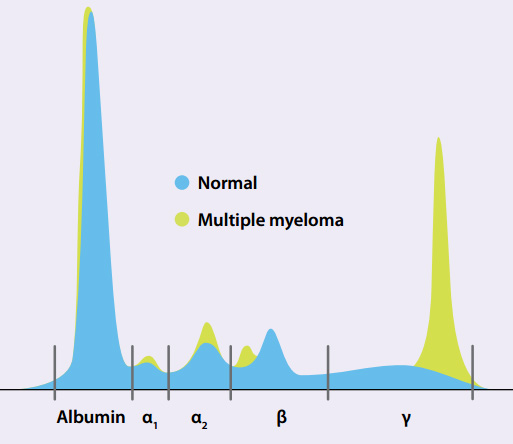 Bone marrow biopsy/aspirate: more than 10% clonal plasma cells.These plasma cells will have a "fried egg" appearance (caused by Ig overexpression), and also often possess chromatin distributions that resemble a "clock-face" (normal characteristic of plasma cells).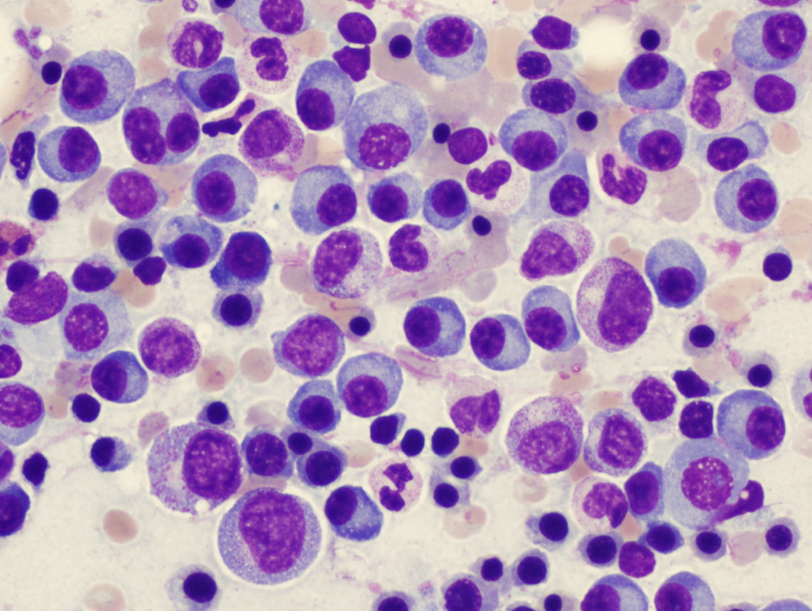 HOW DO WE TREAT IT?
*This is an incurable disease with treatment targeting proliferation of malignant cells
High dose chemotherapy is used as the mainstay of treatment.
Doxorubicin (Adriamycin)

: an antibiotic that works by intercalating with DNA (disrupts replication and transcription). It breaks the DNA
Bisphosphonates: are used to prevent bone fractures. They are ingested, and antagonize/kill osteoclasts (preventing bone breakdown).
Autologous stem cell transplantation (ASCL): this is the transplantation of one's own normal stem cells into the bone marrow.
HOW WELL DO THE PATIENTS DO?
With treatment median survival is ~4 years (6 months without treatment).
WAS THERE A WAY TO PREVENT IT?
No clear means of prevention.
WHAT ELSE ARE WE WORRIED ABOUT?
Infection: patients with multiple myeloma have a increased susceptibility to infection because the monoclonal antibody produced lacks antigenic diversity. MOST COMMON CAUSE OF DEATH.
Primary amyloidosis (AL): this is an abnormal aggregation of proteins/protein fragments into β-pleated sheets that can cause damage and apoptosis to tissues and cells. In multiple myeloma free light chains will aggregate and deposit into tissues (can affect many organs). Can cause renal failure which can lead to anemia.
Fanconi syndrome is a condition that is a generalized defect in the reabsorption properties of the proximal convoluted tubule of the kidney. This can be caused by multiple myeloma.
OTHER HY FACTS?
Most common primary tumor arising in the bone, metastatic cancer is the most common bone malignancy overall.
ARCHIVE OF STANDARDIZED EXAM QUESTIONS
This archive compiles standardized exam questions that relate to this topic.
FURTHER READING
Page Updated: 01.17.2016