OVERVIEW
Postpartum endometritis refers to an infection of the uterine decidua that occurs soon after delivery.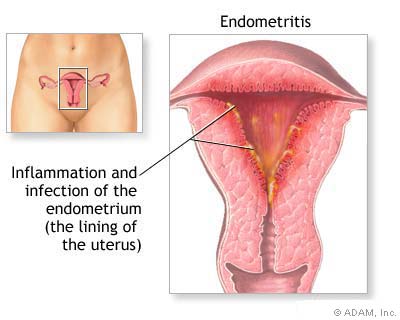 WHAT CAUSES IT?
Typically this condition is caused by a polymicrobial infection. The current belief is that inoculation of the uterine cavity by vaginal flora odors during labor/delivery is the underlying etiology.
WHAT MAKES US SUSPECT IT?
Risk Factors:
Cesarean delivery, chorioamnionitis, group B streptococcus colonization, prolonged rupture of membranes, operative evaginal delivery
Initial Presentation
Maternal fever (postpartum) typically occurs > 24 hours spot delivery
Purulent lochia
Physical Exam
Tender uterus
Purulent discharge
CLINICAL WORKUP
Neither endometrial or blood cultures are required for diagnosis (but may be ordered if the patient does not improve after 48 hours of antibiotic therapy).
HOW DO WE TREAT IT?
This condition is treated with a combination of:
Treatment is continued until the patient is afebrile for > 24 hours.
ARCHIVE OF STANDARDIZED EXAM QUESTIONS
This archive compiles standardized exam questions that relate to this topic.
Page Updated: 11.01.2016