WHAT IS IT?
Alport Syndrome is a glomerular basement membrane disease (nephritic syndrome) caused by a defect (mutations) in collagen IV. This is most commonly an X-linked condition (although can be an autosomal recessive condition as well).
WHY IS IT A PROBLEM?
Mutations in collagen IV lead to the loss of its normal triple helix structure, and ultimately result in thinning/splitting of the glomerular basement membrane. This compromises the integrity of this basement membrane, leading to blood loss in the urine. Eventually, these processes will lead to kidney fibrosis.
Related issues (that are not caused by the pathophysiology above, but are associated with the condition) are malformations of the lenses in the eye, retinopathy, and abnormalities of the sensory hearing pathway).
WHAT MAKES US SUSPECT IT?
Risk Factors:
Family history (X-linked)
Initial Presentation:
Hematuria: seen in almost all patients with this condition
Sensory hearing loss
Visual disturbances:
History Of Present Illness:
Hearing loss is not congenital, is symmetric, and progressive
Visual issues usually do not cause blindness
Physical Exam:
Vital signs:
Hypertension can be present (can progress with advancing age/increased damage to kidney)
Ophthalmic exam can reveal an anterior protrusion of the lens (lenticonus anterior, which is pathognomonic for Alport syndrome). Other lens defects can be observed as well.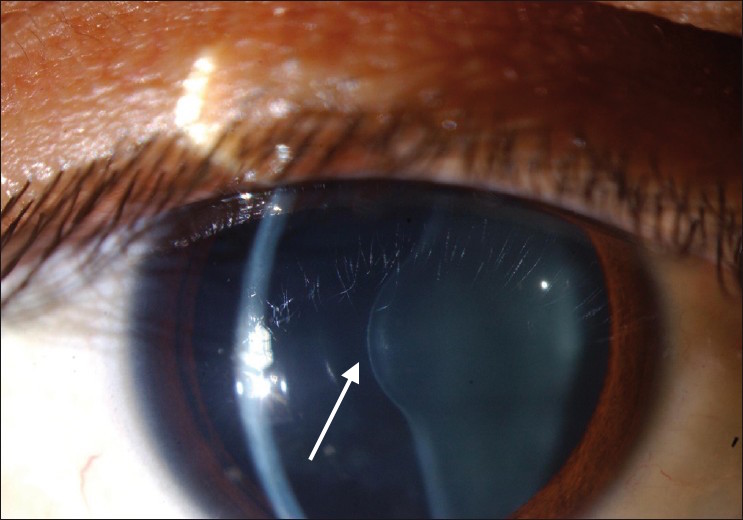 HOW DO WE CONFIRM A DIAGNOSIS?
Urine analysis will demonstrate hematuria and proteinuria.
Renal function: can demonstrate increased creatinine and blood urea nitrogen
Skin biopsy can be a less invasive way to assess the status of collagen IV in a patient (compared to a kidney biopsy). The type IV collagen alpha-5 chain (COL4A5) is normally present in the skin and will be absent in patients
Electron microscopy (kidney biopsy): "basket weave" appearance can be seen with this analysis that demonstrates an abnormally split glomerular basement membrane (GBM).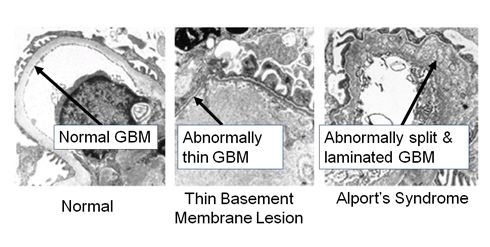 HOW DO WE TREAT IT?
There is no curative treatment for this condition!
Angiotensin-converting enzyme (ACE) inhibitors considered first-line therapy to limit the loss of blood/protein in the urine.
Dialysis may be required for patients experiencing renal failure. These patients are candidates for kidney transplant.
HOW WELL DO THE PATIENTS DO?
Patients are symptomatic for life, and depending on a few factors disease will progress over time until end stage renal disease (more common in men then women for this condition).
WAS THERE A WAY TO PREVENT IT?
This congential disorder is not preventable.
WHAT ELSE ARE WE WORRIED ABOUT?
Progressive renal failure can occur as the disease progresses.
OTHER HY FACTS?
Alport syndrome is classified as a nephritic syndrome (ones associated with disruption of the glomerular basement membrane).
ARCHIVE OF STANDARDIZED EXAM QUESTIONS
This archive compiles standardized exam questions that relate to this topic.
Page Updated: 01.15.2016