WHAT IS IT?
Minimal change disease (MCD) is a common cause of nephrotic syndrome in children (a condition that is marked by damage of the podocyte cells in the nephron). This is a condition that is ultimately caused by cytokines. There are two major classifications of this condition.
Primary MCD: this is often referred to as idiopathic (thought to be associated with infection, immunizations, or immune stimuli)
Secondary MCD: while rare, lymphoma (Hodgkin) may cause cytokine mediated damage.
*The name "minimal change" comes form the fact that the glomerulus of the kidney appears normal on light microscopy (and literally only changes minimally)
WHY IS IT A PROBLEM?
The cytokines (often released by T-cells) in part mediate damage to the podocyte cells of the kidney.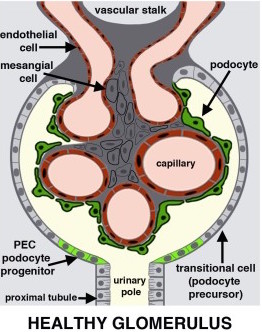 These podocyte cells are responsible for maintaining a charge barrier (heparin sulfate between cells repels negatively charged particles). Podocyte damage, or the loss of heparin sulfate between these cells (cytokines from immune cells can cause this), results in the loss of this charge barrier. Under these conditions, negatively charged proteins (like albumin) are no longer repelled, and are able to enter the filtrate (and are lost from the blood). Given that albumin is one of the most important proteins in the serum for maintaining osmotic/oncotic pressure (the pressure that keeps fluid within the vasculature), its loss shifts the balance of forces such that water begins to enter the interstitial tissues and causes edema (which is composed of transudate).
Important note: MCD causes only selective loss of albumin (no immunoglobulins are lost)
WHAT MAKES US SUSPECT IT?
Risk Factors:
Hodgkin lymphoma, children
Initial Presentation
Weight gain: this is caused by generalized edema
Shortness of breath (+/- pain)
Fatigue
Edema (both peripheral pitting and periorbital)
Pitting peripheral edema can be observed on physical exam.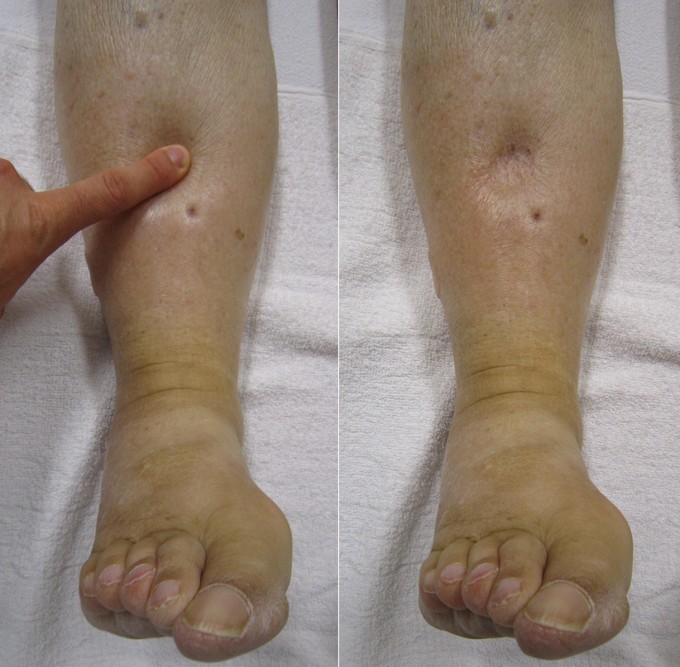 Periorbital edema can also be observed on physical exam.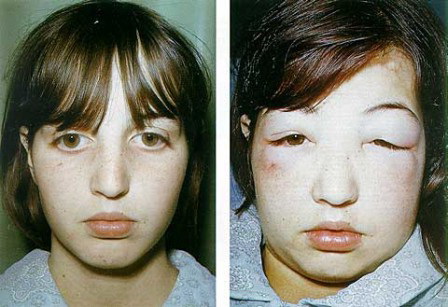 Foamy urine: persistent foamy urine (not caused by high-speed of urination) can be the mark of proteinuria (a classic sign of nephrotic syndrome).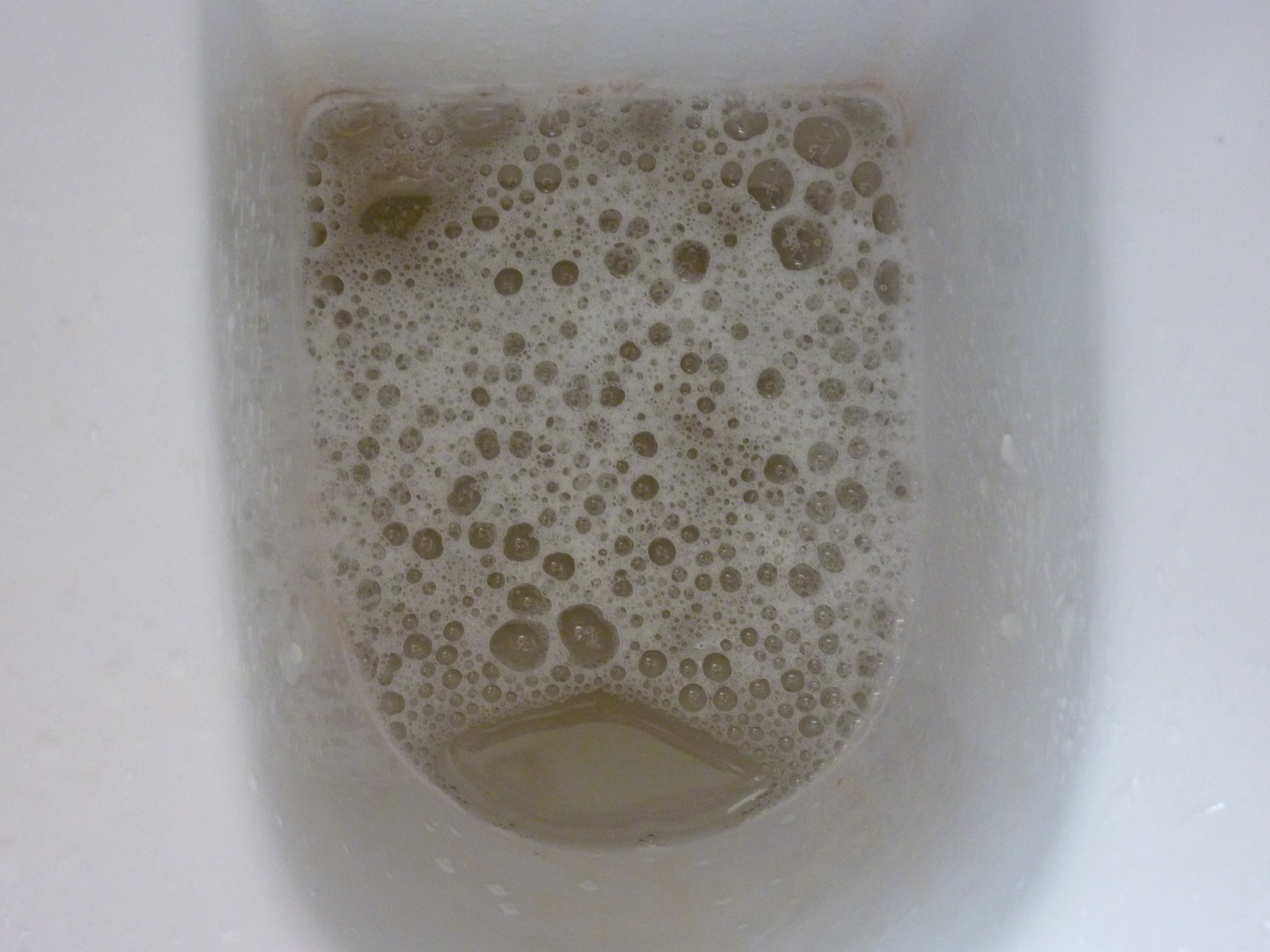 HOW DO WE CONFIRM A DIAGNOSIS?
DIAGNOSTIC CRITERIA for nephrotic syndrome (further testing should be done for underlying cause). All of the following required (source):
Proteinuria > 3-3.5 g/24-hour urine (loss of albumin in urine)
Peripheral edema on physical exam
Hypoalbuminemia < 2.5 g/dL (25 g/L)
Hyperlipidemia total cholesterol may be > 386 mg/dL * as albumin is lost, the liver compensates by increasing its synthesis of albumin. A collateral by-product of this is to also increase the production of apolipoproteins (that transport cholesterol/fats in the body) which ultimately results in hyperlipidemia/hypercholesterolemia in the blood.
Fatty casts/bodies in urine: while not diagnostic, analysis of the urine can also reveal the presence of fatty casts or bodies (these are caused by the loss of cholesterol in the urine).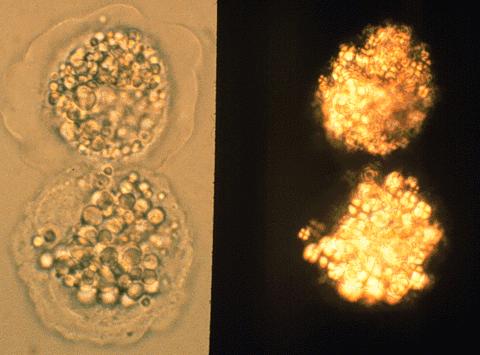 RENAL BIOPSY:
Light microscopy: normal glomeruli on typical H&E (lipid may be seen in proximal convoluted tubule cells)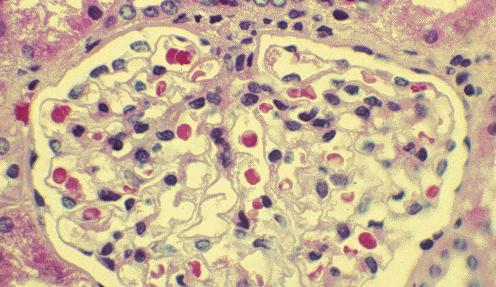 Immunofluorescence (IF): no abnormal finings. There are no immune complex deposition so IF will be negative (if checking for such antibodies.
Electron microscopy: fusion (effacement) of foot processes. The loss of the heparin sulfate between the podocyte cells of the kidney will result in their fusion with one another.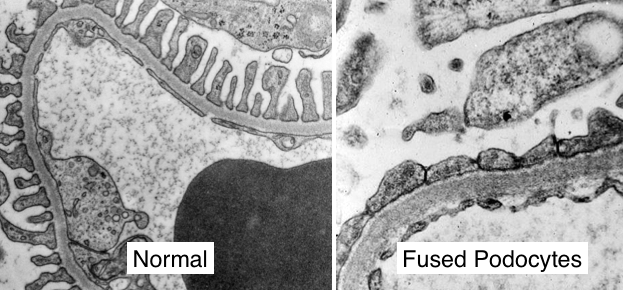 HOW DO WE TREAT IT?
Corticosteroids: are very effective for treating MCD
*Limiting salt intake can be beneficial for edema.
HOW WELL DO THE PATIENTS DO?
Patients rarely experience permanent kidney damage, however this condition re-occurs often.
WAS THERE A WAY TO PREVENT IT?
Means of prevention are not clear for this condition.
WHAT ELSE ARE WE WORRIED ABOUT?
Hodgkin lymphoma: while rare, Hodgkin's lymphoma is a secondary cause of this condition.
OTHER HY FACTS?
MCD causes only selective loss of albumin (no immunoglobulins are lost, so patient is not at risk for infection)
ARCHIVE OF STANDARDIZED EXAM QUESTIONS
This archive compiles standardized exam questions that relate to this topic.
Page Updated:01.14.2016