OVERVIEW
Placenta previa is an obstetric complication where the placenta is inserted partially or wholly in the lower portion of the uterus. Essentially, the placenta blocks the path of the fetus through the cervix (shown below, source). This is the leading cause of antepartum hemorrhage.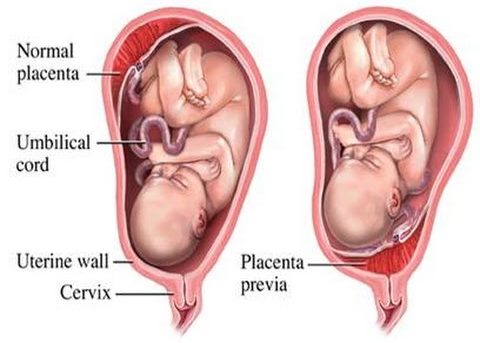 WHAT MAKES US SUSPECT IT?
Risk Factors:
Prior placenta previa, prior cesarean section/uterine surgery, multiparty, advanced maternal age
Initial Presentation:
Antepartum bleeding (typically 3rd trimester)
Absence of pain/uterine tenderness 
CLINICAL WORKUP
Transabdominal ultrasound 
Transvaginal ultrasound 
HOW DO WE MANAGE IT?
No intercourse which can potentially traumatize the placenta and cause a massive hemorrhage
Digital examination is also contraindicated for similar reasons
Cesarean delivery is recommended at 36-37 weeks gestation.
ARCHIVE OF STANDARDIZED EXAM QUESTIONS
This archive organizes exam questions on this topic.
Page Updated: 10.10.2016