OVERVIEW
Paget disease of the breast (mammary Paget disease) refers to a condition characterized by a persistent, eczematous and ulcerating rash localized to the nipple (and spreading to the areola).
WHAT CAUSES IT?
It is believed that the nipple changes in mammary Paget disease are the result of neoplastic cell migration (through the mammary ducts) to the nipple surface.
WHY IS THIS A PROBLEM?
A large proportion of patients with mammary Paget disease will have an underlying breast caner. Adenocarcinoma is the most common type of breast cancer found in Paget disease.
WHAT MAKES US SUSPECT IT?
Initial Presentation:
Rash on the nipple/areola (explained more below)
Pain/burning/itching of the affected nipple
History Of Present Illness:
No response with topical corticosteroids: patients may often try topical steroids to address the rash on the nipple, however this condition will not respond to that type of therapy.
Physical Exam: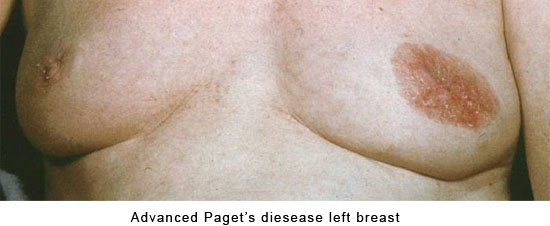 Examination of the breasts can reveal the following features:
Eczematous/ulcerating rash (localized to the nipple/areola)
Vesicles and or scales may be present
Bloody discharge is possible
CLINCIAL WORKUP
Mammography
Biopsy of findings 
ARCHIVE OF STANDARDIZED EXAM QUESTIONS
This archive organizes exam questions on this topic.
Page Updated: 10.10.2016