WHAT IS IT? 
Diffuse Large B-cell Non-Hodgkin lymphoma/Diffuse Large B Cell Lymphoma (DLBCL) is only one of the subtypes of Non-Hodgkin Lymphoma (NHL). It is a neoplastic proliferation of large B-cells (that are CD20+). It arises either sporadically or from transformation of a low grade lymphoma (such as a follicular lymphoma). Thought to be associated with chronic immune suppression (AIDS, steroids) While there is no defining mutation that drives this condition, a subset (that likely transform from follicular lymphoma) contain the 14:18 translation seen in folicular lymphoma.
WHY IS IT A PROBLEM?
This is the most common form of NHL, and is clinically aggressive (high grade) quickly leading to death if untreated. Usually characterized by disease in multiple peripheral nodes. Noncontiguous spread with extranodal involvement common (with bone marrow involvement late in the disease).
WHAT MAKES US SUSPECT IT?
Risk factors: HIV, Hashimoto thyroiditis, older age (median age ~65), immunosuppression (immunosuppressive drugs after organ transplant), male
Lymphadenopathy that is painless (but sometimes rapidly enlarging)
Extranodular masses can be present in patients with this condition.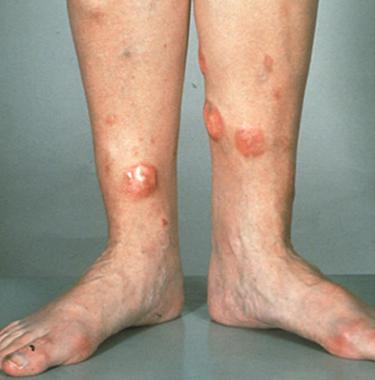 Constitutional B symptoms: more commonly seen in those with Hodgkin lymphoma, however DLBCL can also present with
Fever
Weight loss
Night sweats
HOW DO WE CONFIRM A DIAGNOSIS?
*Diagnosed by BIOPSY or immunophenotyping (either a node or a extranodal mass)
Histology: resemble large lymphocytes that usually reside in the normal follicles (are derived from germinal centers). That being said, they do not contain follicular architecture. Sheets of cells with prominent nuclei (that take many forms) will be present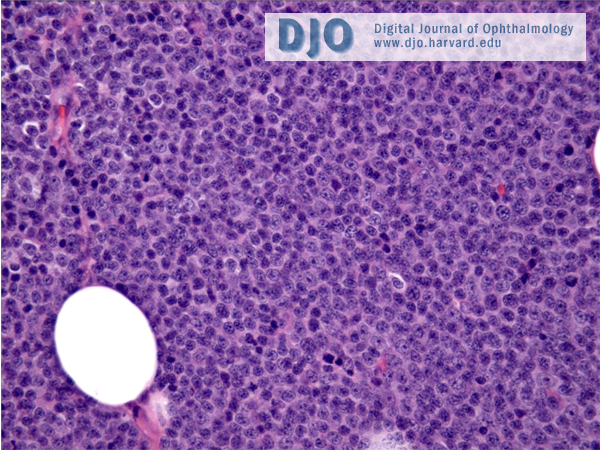 Immunophenotyping: cells within a neoplastic tissue will be positive for: CD20, CD45, and CD3
**Bone marrow biopsy can be done to rule out invasion of the marrow space!
HOW DO WE TREAT IT? 
Treatment includes the CHOP-R acronym: however the specifics are more complicated then what is included below (regarding stages of chemotherapy, etc).
Cytoxan (cyclophosphamide): adds an Alkyl group to DNA, inducing death in cells (by impairing normal DNA function)
Hydroxydaunorubicin (doxorubicin): an antibiotic that works by intercalating with DNA (disrupts replication and transcription). It breaks the DNA.
Oncovin (vincristine): this is a microtubule inhibitor used for NHL. It binds β-tubulin and inhibits its polymerization into microtubules. These ultimately arrests cells in the M phase of cell division, interfering with microtubule formation.  
Prednisone: steroid that is immunosuppressive
Rituximab: Monoclonal antibody that targets CD20 (found on B-cells). Facilitates destruction of B-cells.
HOW WELL DO THE PATIENTS DO?
Very aggressive tumor that is rapidly fatal if left untreated, however even advanced diseases are curable.
WAS THERE A WAY TO PREVENT IT? 
No clear prevention strategies exist as of now, however a compromised immune system does seem to be associated with the disease.
WHAT ELSE ARE WE WORRIED ABOUT? 
HIV: the incidence of NHL in patients with HIV is increased. It is believed that HIV might predispose someone to developing NHL.
Hashimoto thyroiditis: this autoimmune disorder is the most common cause of hypothyroidism (in iodine-sufficient regions) and is associated with an increased risk of NHL.
Warm immune hemolytic anemia: NHL is a secondary cause of this condition.
OTHER HY FACTS?
Most common type of non-Hodgkin lymphoma: Usually seen in older adults, sometimes in children.
May be associated with HIV and autoimmune diseases
Page Updated: 01.13.2016