OVERVIEW
This page is dedicated to covering the differential diagnosis for abnormal uterine bleeding (AUB). This differential will be organized by disease categories.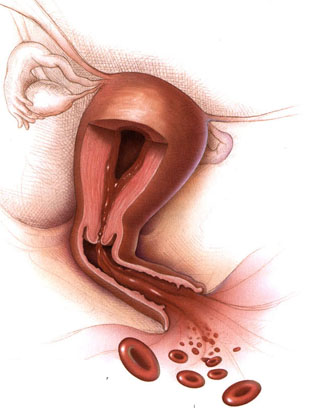 WHAT ARE THE MAJOR DISEASE CATEGORIES?
When thinking about the differential for AUB the following disease categories come to mind:
Obstetrical causes of AUB
Structural
Nonstructural 
OBSTETRICAL CAUSES OF AUB
Here are some obstetrical causes of AUB. 
Pregnancy
Spontaneous abortion
STRUCTURAL CAUSES OF AUB
Here are some examples of structural causes of AUB. 
Endometrial polyps
Endometrial hyperplasia
NONSTRUCTURAL CAUSES OF AUB
Here are some examples of nonstructural causes of AUB:
Coagulopathies: these patients are predisposed to many different types of bleeding, and AUB.
Ovulatory dysfunction: the loss of normal ovulation can lead to AUB by changes in hormonal signaling. One example is a state of estrogen signaling that is unopposed by estrogen (which leads to abnormal endometrial growth patterns, and then bleeding).
Hyperandrogenism: polycystic ovarian syndrome, congenital adrenal hyperplasia
Hypothalamic dysfunction: anorexia nervosa
Hyperprolactinemia: thyroid disorder
Primary pituitary disease
Premature ovarian failure
Radiation or chemotherapy
Medications
Obesity
Perimenopausal anovulatory dysfunction
Iatrogenic:
Radiation
Chemotherapy
Medications (contraceptives)
Copper IUDs
Endometrial:
Not yet classified 
Page Updated: 10.13.2016