OVERVIEW
Uterine inversion is a rare but potential fatal complication of delivery. The fundus of the uterus literally collapses into the endometrial cavity and prolapses through the cervix in this condition.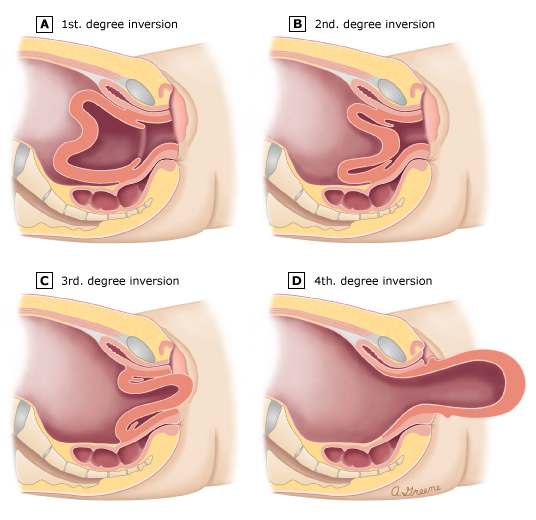 WHAT CAUSES IT?
It is thought that both excessive fundal pressure, and excessive umbilical cord traction can be responsible for causing a uterine inversion.
WHY IS IT A PROBLEM?
Uterine inversion can be a potentially fatal cause of postpartum hemorrhage.
WHAT MAKES US SUSPECT IT?
Risk Factors
Nulliparity, fetal macrosomia, placenta accrete, rapid labor and delivery
Initial presentation: it is important to keep in mind that this condition will of course occur after delivery of a baby
Physical exam:
Abdominal exam will reveal that the uterus is no longer able to be palpated transabdominally
Gynecological exam often reveals the visual appearance of a smooth, round mass protruding through the cervix or vagina.
HOW DO WE TREAT IT?
Aggressive fluid replacement to restore hemodynamic stability.
Uterine replacement to restore the proper location of the uterus. This is done manually.
Uterotonic medications (after uterus replacement) to help control post partum hemorrhage.
Placental removal (after uterus replacement) if the placental is still attached to the uterus.
ARCHIVE OF STANDARDIZED EXAM QUESTIONS 
This archive compiles standardized exam questions that relate to this topic.
Page Updated: 10.04.2016