OVERVIEW
This page contains information regarding measuring a pregnant patient's uterus size on physical exam (i.e. the patient's fundus height).
WHY DO WE CARE ABOUT THE FUNDUS HEIGHT?
While it is not the most precise measurement, calculating the fundus height of a pregnant patient can give some perspective on the size, and growth pattern of the fetus. For most gestational ages there is an expected "fundal height" and while some variation exists with regards to what the "normal range" is, starts deviations away form this "expected' number may point to issues/complications with fetal development.
HOW DO WE MEASURE THE FUNDUS HEIGHT?
Generally speaking this measurement is saved for patients  This measurement can be done during a physical exam. The abdomen is palpated gently to establish were the top of the uterus, Next a tape measure is used to measure the distance between the top of the pubic symphysis (i.e. the top of the pubic bone) and the top of the uterus. This measurement (in centimeters) is the fundus height!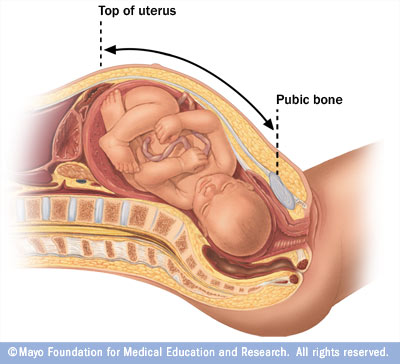 WHAT ARE SOME IMPORTANT LANDMARKS FOR GESTATIONAL AGE?
While generally speaking the fundus height correlates with the gestational age (i.e. fundus height of 26 cm = 26 weeks) there are some anatomical landmarks that can be used as a general reference point.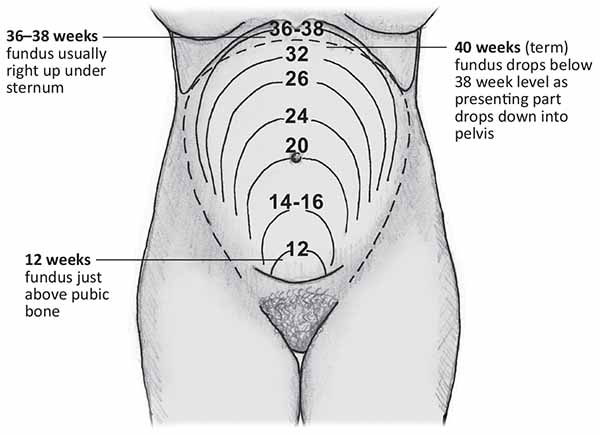 Here are some key ones to remember
Pubic spymphisis: 12 weeks gestation
Umbilicus: 20 weeks gestation
Xiphoid process of sternum: 36 weeks gestation  
After 36 weeks gestation the uterus regresses to a fundal eight between 32-36 cm.
*Finger breaths under the umbilicus can suggest the gestational age quickly. Each finger is assumed to be a cm in size, so 20 weeks (minus finger breadths below the umbilicus) gives an assumed gestational age quickly. 
Page Updated: 10.03.2016