OVERVIEW
Shoulder dystocia refers to the inability to deliver the fetal shoulders with gentle traction (during an attempted vaginal delivery). It is an obstetric emergency/labor complication.
WHAT CAUSES IT?
Fundamentally, shoulder dystocia is caused by impaction of the anterior shoulder behind the pubic symphysis.
WHAT MAKES US SUSPECT IT?
Risk Factors:
Fetal macrosomia, maternal obesity, excessive weight gain during pregnancy, gestational diabetes, postterm pregnancy
HOW DO WE ADDRESS IT?
The McRoberts maneuver is the initial recommended treatment to try and relieve the shoulder dystocia. This maneuver involves flexing the hips pack against the abdomen and providing suprapubic pressure.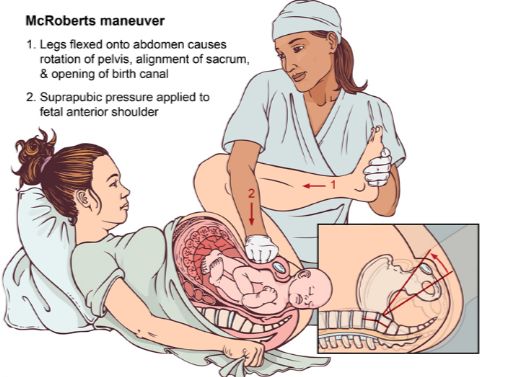 ARCHIVE OF STANDARDIZED EXAM QUESTIONS
This archive shows how standardized exams ask about this topic.
Page Updated: 10.02.2016