WHAT IS IT?
An ectopic pregnancy refers to the implantation of a fertilized egg OUTSIDE of the uterus.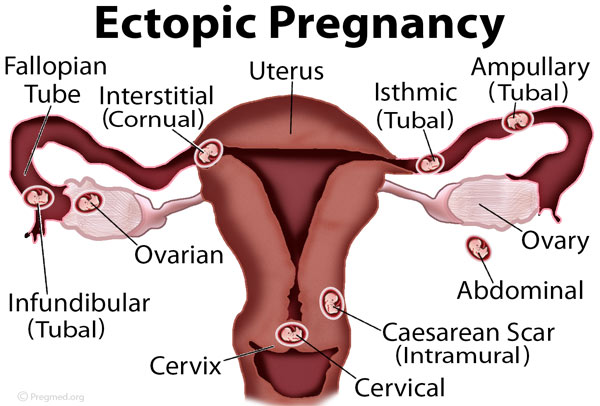 WHAT CAUSES IT?
WHY IS IT A PROBLEM?
WHAT MAKES US SUSPECT IT?
Risk factors
Previous ectopic pregnancy, previous pelvic/tubal surgery, pelvic inflammatory disease
Initial Presentation
Common Chief Complaints:
History Of Present Illness

Physical Exam Findings
Gynecological exam; the following findings may be present in some cases
Cervical motion tenderness
Adnexal and/or abodminla tenderness
Palpable adnexal mass
CLINICAL WORKUP
Pregnancy test: this will be positive (beta-hCG is elevated).
Ultrasound will not show a gestational sac in the uterus. Often an adnexal mass will be seen in the setting of an empty uterus. Free fluid can also be noted in the report.
AT WHAT POINT DO WE FEEL CONFIDENT IN MAKING THE DIAGNOSIS?
WHAT ELSE ARE WE WORRIED ABOUT?
Rupturing of the ectopic pregnancy
HOW DO WE TREAT IT? 
Stable ectopic pregnancies can be treated with methotrexate
Unstable ectopic pregnancies surgery is needed (emergency surgical exploration)
HOW WELL DO THE PATIENTS DO?
WAS THERE A WAY TO PREVENT IT?
ARCHIVE OF STANDARDIZED EXAM QUESTIONS
This archive compiles standardized exam test questions on the topic of ectopic pregnancy.
FURTHER READING
Page Updated: 09.30.2016