WHAT IS IT?
Interstitial cystitis (painful bladder syndrome) is an chronic inflammatory process that involves the bladder.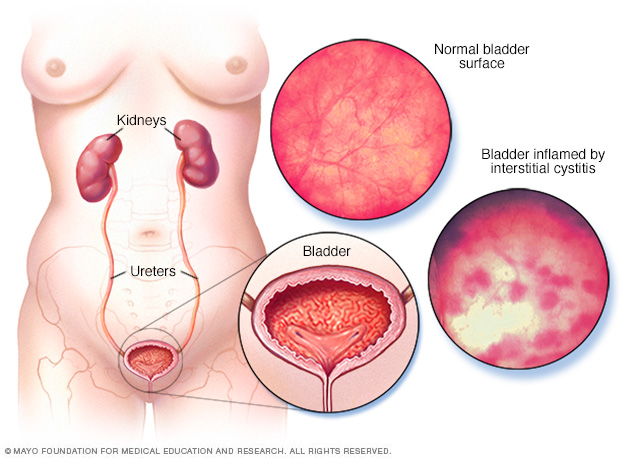 WHAT CAUSES IT?
While the underlying cause of this condition is poorly understood, it is important to realize that it is NOT caused by infection.
WHY IS IT CONCERNING MEDICALLY?
WHAT IS THE INTIAL PRESENTATION?
Patient Chief Complaints:
Painful urination (dysuria)
Urinary frequency
Urinary urgency
Pain during intercourse (dyspareunia)
Detected Medical Problems:

WHAT ARE IMPORTANT ELEMENTS OF THE MEDICAL HISTORY?
Risk Factors:
Female sex
Psychiatric disorders: anxiety, pain syndromes (such as fibromyalgia)
Medical History:
Increased pain with bladder distention
Relief of bladder pain with urination
WHAT ARE IMPORTANT FEATURES OF THE PHYSICAL EXAM?
Vital Signs are often within normal limits in these patients
Abdominal Exam may reveal:
CLINICAL WORKUP: URINE STUDIES
Urinalysis performed often will be unremarkable. There will be no signs of infection.
Urine culture will be negative
CLINICAL WORKUP: IMAGING
CLINICAL WORKUP: OTHER
HOW DO WE NARROW THE DIFFERENTIAL?
Conditions that present similarly and how to exclude them:
WHAT IS OUR THRESHOLD FOR DIAGNOSING THIS CONDITION?
PATIENT MANAGMENT: SYMPTOM RELEIF
Analgesics for exacerbations
PATIENT MANAGEMENT: DISEASE TREATMENT
Current therapies are crafted on improving the patient's quality of life. They are not curative.
PATIENT MANAGEMENT: PROPHYLACTIC MEASURES
Behavioral modification and trigger avoidance:
COULD THIS HAVE BEEN PREVENTED?
ARCHIVE OF STANDARDIZED EXAM QUESTIONS
This archive compiles standardized exam questions that relate to this topic.
Page Updated: