WHAT IS IT?
Anemia of chronic disease (ACD) is a process by which increased hepcidin by the liver leads to an iron deficient anemia. While the exact mechanism of this increased hepcidin is not completely clear (although it is believed interleukin 6/IL-6/inflammatory cytokines are the fundamental cause of increased hepcidin). It is associated/thought to be caused by conditions such as rheumatoid arthritis, lupus, neoplastic disorders (lymphomas), chronic kidney disease, and long term infectious diseases (such as tuberculosis).
WHY IS IT A PROBLEM?
Hepcidin is a regulatory protein that binds and inhibits ferroportin on intestinal mucosal cells and macrophages. Ferroportin is a transmembrane protein that transports iron from within a cell to its outside. In the setting of anemia of chronic disease, loss of ferroportin activity leads to retention of iron in intestinal cells and macrophages, ultimately causing decreased iron availability to red blood cells (RBCs). Iron is an important component of hemoglobin formation in RBCs, so in the end increased hepcidin leads to anemia because hemoglobin can not be produced properly.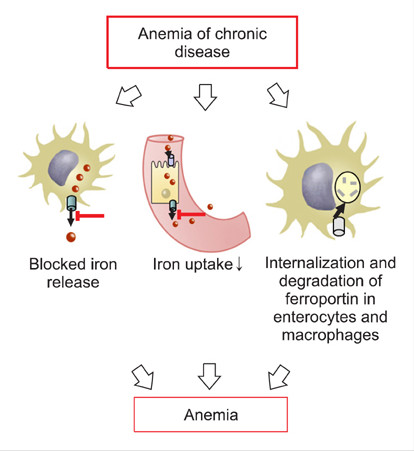 WHAT MAKES US SUSPECT IT?
Risk factors: lupus, chronic kidney disease, chronic infections, older age
Chief complaint: general symptoms of anemia can include fatigue and, dyspnea on exertion.
Pallor: paleness of the skin associated with iron deficiency.
HOW DO WE CONFIRM A DIAGNOSIS?
*Decreased hemoglobin (Hb) on complete blood count (CBC) will diagnose anemia: initially ACD can be normocytic (mean corpuscular volume/MCV of RBCs normal) however after time it will progress to microcytic anemia (decreased MCV).
Iron studies: patients will have decreased serum iron and decreased total iron binding capacity/TIBC given pathophysiology of the condition. TIBC indirectly measures transferrin (the protein in the blood that carriers iron). ACD patients will also have increased ferritin (intracellular protein that binds iron) simply because of the intracellular iron accumulation in cells.
Serum Hepcidin: given that this is the causal regulatory protein behind ACD, elevation of hepcidin suggests ACD instead of a more typical iron deficiency anemia.
HOW DO WE TREAT IT?
*Treating the underlying condition should resolve the presenting anemia
Erythropoietin (EPO): Administration of EPO may help increase Hb levels in some cases (typically in patients with kidney disease)
HOW WELL DO THE PATIENTS DO?
Prognosis will depend ultimately on the underlying condition of the patient with ACD. With that in mind successful treatment of the cause behind increased hepcidin levels
WAS THERE A WAY TO PREVENT IT?
This depends entirely on the specific cause of ACD in the patient. Proper screening, diagnosis, and management of the underlying condition will in many cases prevent ACD.
WHAT ELSE ARE WE WORRIED ABOUT?
Cancer: both hematologic and solid tumors can be the cause of anemia of chronic disease.
OTHER HY FACTS?
Most common cause of anemia in hospitalized patients, and the most common cause of normocytic anemia
ARCHIVE OF STANDARDIZED EXAM QUESTIONS
This archive compiles standardized exam questions that relate to this topic.
Page Updated: 01.06.16