WHAT IS IT?
Hemolytic uremic syndrome (HUS): is a condition characterized by a specific triad of 1.) Hemolytic anemia, 2.) thrombocytopenia, and 3.) Acute renal failure.
WHAT CAUSES IT?
A pathogen that produces Shiga toxin (i.e. Shigella dysenteriae) or a Shiga-like toxin (i.e. E. coli O157:H7) is ultimately responsible for this condition.
WHY IS IT A PROBLEM?
The Shiga/shiga-like toxin will bind to endothelial cells in the glomerulus causing apoptosis and subsequent activation of the immune system. These cells become thrombogeneic which in turn causes clot formation (while also depleting the number of platelets found in the blood). These clots will lodge in the small vessels of the body, including the kidney (which accounts for the renal failure). These lodged clots destroy red blood cells (RBCs) through a process called microangiopathic hemolysis: essentially as RBCs try to squeeze past these activated aggregates of platelets they are destroyed due to mechanical forces.
WHAT MAKES US SUSPECT IT?
Risk factors:
Children under age of 10 (most common), recent history of blood diarrhea
Initial Presentation:
Presentation of anemia: somnolence, lethargy, oliguria.
Bloody diarrhea
Bruising/petechiae
Oliguria
Edema
History Of Present Illness:
Recent history of bloody diarrhea: this could suggest a past Enterohemorrhagic Escherichia Coli (EHEC) infection.
Salmon-colored urine can be noticed by patients.
CLINCIAL WORKUP
Serum studies can show the following findings;
Decreased hemoglobin/hematocrit: hemolysis in this condition can often cause anemia (hallmark of HUS).
Decreased platelets: this is also another hallmark of HUS. Platelets are consumed in the formation of micro-thrombi. In adults, normal platelet count is 150,000 to 450,000 platelets per microliter of blood.
Elected creatinine/BUN: acute renal failure is the third hallmark of HUS (which can be reflected by an elevated creatine/BUN value). Microthrombi form on damaged endothelium impairing renal function.
Increased indirect bilirubin: this will be a result of the hemolysis that occurs in HUS.
Peripheral blood smear: This study can often show the presence of fragmented red blood cells (schistocytes). This is indicative of hemolysis (microangiopathic anemia).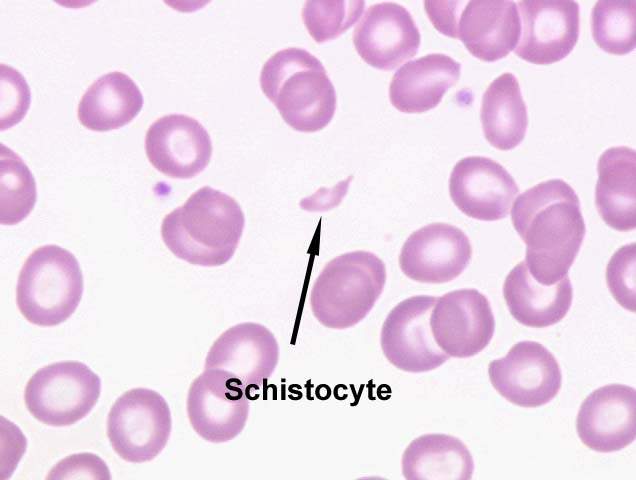 Urinalysis can reveal the following findings:
Proteinuria
Hematouria
Increased WBCs
Casts
Stool culture: E. coli O157:H7 is a likely culprit organisms for HUS, and its presence in the stool supports the diagnosis of HUS
Enzyme immunoassay for Shiga toxin or polymerase chain reaction (PCR) for Shiga toxin gene (or Shiga-like toxin assays).
HOW DO WE TREAT IT?
Supportive therapy:
Control of fluid and electrolyte imbalance – fluid management requires careful monitoring to maintain renal perfusion while avoiding fluid overload
Transfusion: red blood cell transfusion for cardiovascular/respiratory compromise
Control of hypertension – vasodilators can be used if necessary
Nutritional support
More Aggressive Measures:

Dialysis should be conducted if acute renal failure is unresponsive to fluid management
Blood transfusions may be needed in severe cases of anemia
HOW WELL DO THE PATIENTS DO?
HUS is associated with 3%-5% mortality and 5% rate of severe sequelae among survivors, such as end-stage renal failure or permanent neurologic injury (source).
WAS THERE A WAY TO PREVENT IT?
Preventing the primary infection with the casual pathogen is the prevention for HUS. Avoid contact with known contaminated materials.
WHAT ELSE ARE WE WORRIED ABOUT?
Neurological complications can occur in a large fraction of patients and can range form irritability to seizures, and even coma.
OTHER HY FACTS?
The above describes typical HUS. Another form exists: atypical hemolytic anemia (aHUS). This is a more rare condition, and is caused by a genetic mutation that causes chronic, uncontrolled complement activation. This process leads to platelet activation, and endothelial damage. The pathogenesis form this point on mimics typical HUS (and has many of the same manifestations) however aHUS has a much worse prognosis given it is a genetic condition.
ARCHIVE OF STANDARDIZED EXAM QUESTIONS
This archive compiles standardized exam questions that relate to this topic.
Page Updated: 01.06.2016