WHAT IS IT?
Bladder cancer is a malignant process that involves the urinary bladder. There are different types of bladder cancer that can arise:
Transitional cell carcinoma is the most common cancer of the urinary system.
Squamous cell carcinoma
While they will not be discussed extensively on this page, this cancer also has different tumor stages depending on how advanced/invasive the tumor is.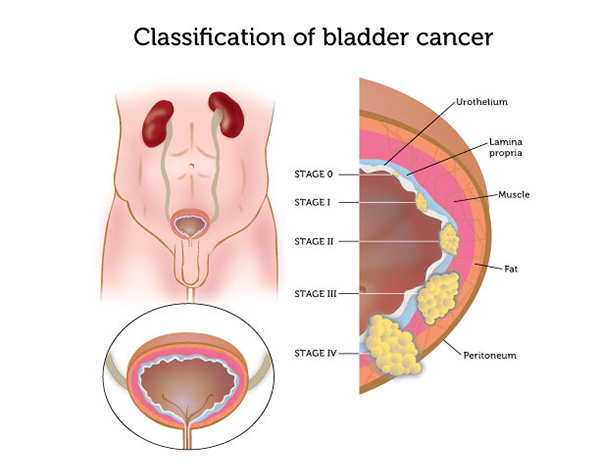 WHY IS IT A PROBLEM?
Like many other cancers, bladder cancer can be fatal if it spreads throughout the body and progresses.
WHAT MAKES US SUSPECT IT?
Risk factors: smoking, schistosomiasis, (Schistosoma haematobium infection), phenacetin, aniline dyes, and cyclophosphamide
Hematuria may be one of the initial chief complaints for this disease.
Other urinary symptoms such as frequency, urgency, and dysuria, may be present. With this in mind, most patients are generally asymptomatic in the early stages of disease.
HOW DO WE CONFIRM A DIAGNOSIS?
Urinalysis will generally NOT reveal the presence of casts (which are more suggestive of renal pathology) but will be positive for hematuria (generally RBCs will be seen).
CT scan can incidentally show a probable tumor in the bladder that will warrant further followup.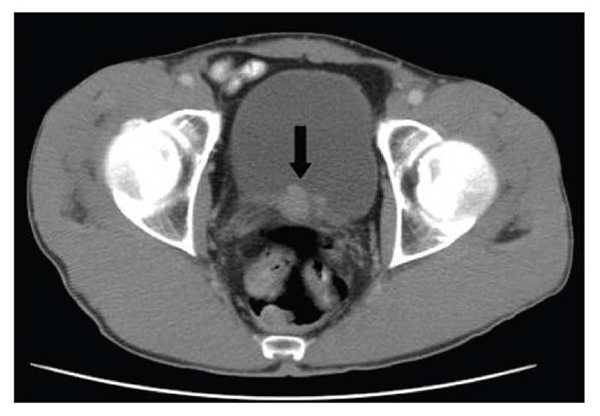 Cystoscopy with biopsy is ultimately diagnostic for bladder cancer.
HOW DO WE TREAT IT? 
Treatment will depend entirely on how advanced the disease is (the extent of spread beyond the bladder mucosa)
Carcinoma in situ: Intravesicular chemotherapy within the bladder with mitomycin-C or BCG (the vaccine for TB).
Superficial cancers: transurethral resection or intravesicular chemotherapy are used.
Large, high-grade recurrent lesions: Intravesicular chemotherapy.
Invasive cancers without metastases: Radical cystectomy (if possible) or radiotherapy (if cystectomy is not curative/disease is not resectable)
Invasive cancers with distant metastases: Chemotherapy alone is given.
HOW WELL DO THE PATIENTS DO?
Prognosis will vary depending on the nature of the disease (and when it is detected)
WAS THERE A WAY TO PREVENT IT?
Smoking cessation is the primary modifiable risk factor for this disease.
WHAT ELSE ARE WE WORRIED ABOUT?
Metastasis of this malignancy is a concern, and the lung is often a site of metastasis.
OTHER HY FACTS?
Schistomiasis is associated with squamous cell carcinoma of the bladder.
ARCHIVE OF STANDARDIZED EXAM QUESTIONS 
This archive compiles standardized exam questions that relate to this topic.
FURTHER READING
Page Updated: 06.26.2016