WHAT IS IT? 
Cervical cancer is a type of gynecologic malignancy that involves the cervix. There are various tumor types that include both squamous cell carcinoma (most common) and adenocarcinoma. A large number of cervical cancer is caused by human papilloma virus (HPV) infection.
WHY IS IT A PROBLEM?
Cervical cancer can cause pain, vaginal bleeding, and in many cases can be life threatening.
WHAT MAKES US SUSPECT IT?
Risk factors: HPV infection (strains 16 and 18 are most oncogenic), cervical dysplasia/cervical intraepithelial dysplasia, unprotected sexual intercourse
Post-coital bleeding is a common presentation for cervical cancer, however many types of non-menstrual vaginal bleeding can be caused by cervical cancer.
Pap smear (can be routine, cervical cancer is usually asymptomatic) can reveal the presence of Koilocytes. These are dysplastic squamous cervical cells with a "raisinoid" nuclei and hyperchromasia. These cells are HPV infected.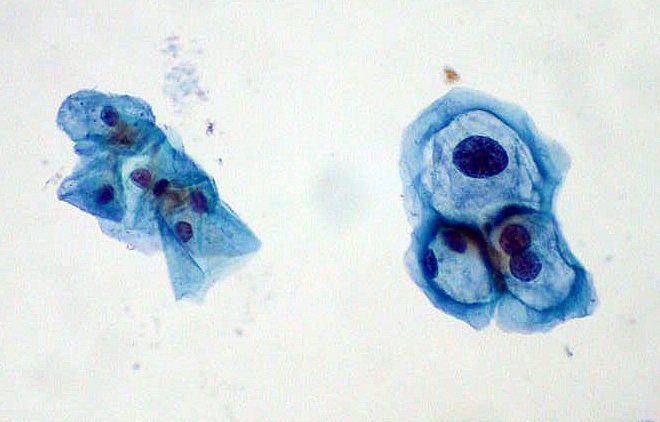 Pelvic exam can reveal an inflamed/friable cervix that may bleed on contact.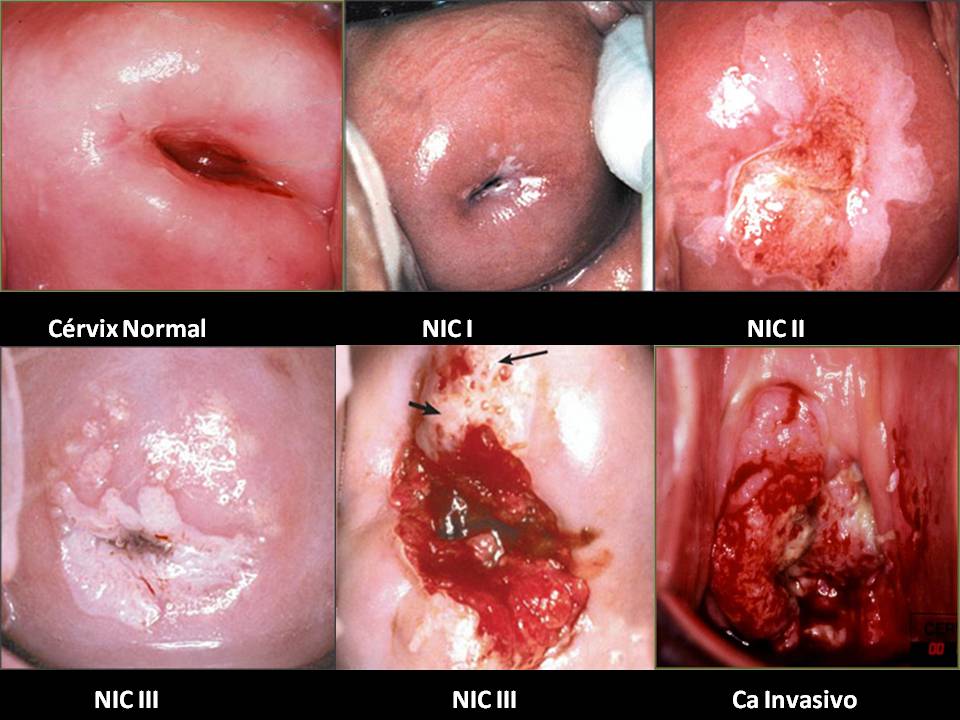 *Warts can be caused by HPV and can increase suspicions for HPV infection (which can lead to cervical cancer)
HOW DO WE CONFIRM A DIAGNOSIS?
Cervical biopsy will ultimately be diagnostic:
Palpable/visual leisions can be biopsied directly.
Cone biopsy can be conducted if early stage disease is suspected (more extensive, a cone shaped wedge is removed from the cervix).

HOW DO WE TREAT IT?
**Treatment will depend on clinch staging of the disease however initial treatment is usually either surgery or radiation.
HOW WELL DO THE PATIENTS DO?
The prognosis of the patient depends on the clinical stage of the cancer when it is detected/treatment is started. Cervical cancer caught early on has a cure rate of ~80-95%, and later stage (stage III) disease survival drops to 60% (source)
WAS THERE A WAY TO PREVENT IT? 
HPV vaccinations: HPV infection is a preventible cause of cervical cancer. HPV vaccinations can prevent infection from certain stains of the virus.
*Oral contraceptives are NOT protective for cervical cancer
WHAT ELSE ARE WE WORRIED ABOUT? 
Hydronephrosis can be caused by cervical cancer leading to urinary tract obstruction.
OTHER HY FACTS?
Cervical cancer is most common gynecological tumor worldwide (poor worldwide HPV screening/vaccination practices), but least common gynecological tumor in the U.S. (good HPV screening/vaccinations).
The transformation zone/squamocolumnar junction (area between outside and inside of the cervix) is the most common area for cervical cancer.
Cervical intraepithelial neoplasia (CIN) will be representative of dysplastic cell growth, and is a precursor to cervical cancer.
ARCHIVE OF STANDARDIZED EXAM QUESTIONS 
This archive compiles standardized exam questions that relate to this topic.
FURTHER READING
Page Updated: 03.03.2016