WHAT IS IT?
Sitagliptin (Januvia): belongs to the DPP-4 inhibitors/gliptins class of medications. It ultimately increases insulin signaling while decreasing glucagon release. It works by inhibiting the breakdown of incretins (that are normally inhibited by DPP-4). Incretins (such as GLP-1) are the mediator for the insulin/glucagon response.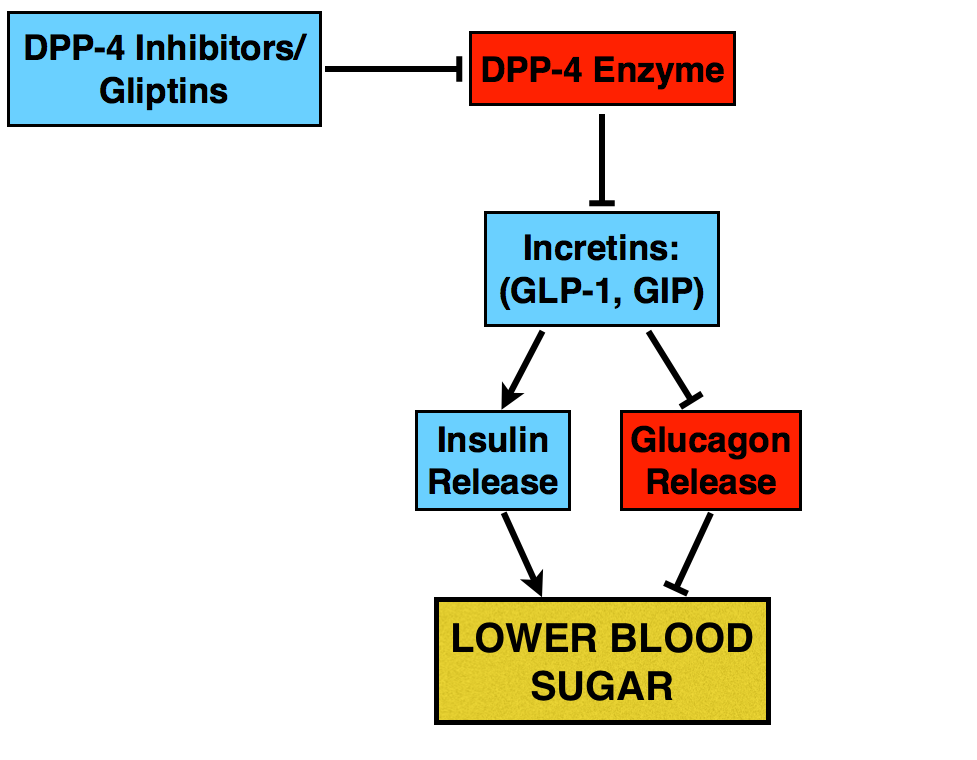 WHEN DO WE USE IT?
In patients with type 2 diabetes mellitus who do not wish to gain weight (this medication does not cause weight gain), are concerned about hypoglycemia (this medication has low risk of causing hypoglycemia), and want minimal side effects (this medication has a very mild side effect profile).
WHEN DO WE AVOID USING IT?
In diabetic patients who need more aggressive glycemic control (more efficacious options exist for patients with very advanced disease) and in patients who are not financially stable (this medication is expensive)
HOW IS IT ADMINISTERED?
Oral administration often in combination with metformin or other diabetes medications. Can be given with or without food.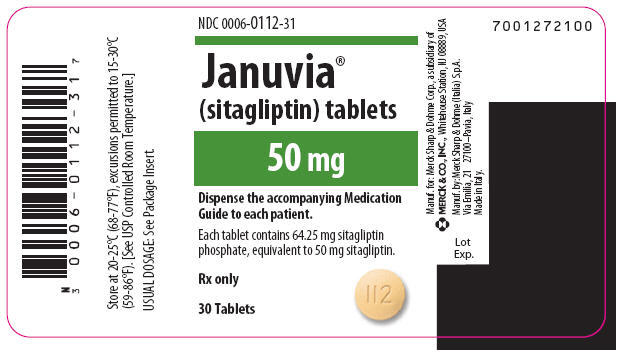 HOW IS IT DOSED?
**Maximum dose is 100 mg daily**
Monotherapy: patients who are only taking this medication alone for diabetes should take 100mg once daily.
Beginning Sitagliptin and Metformin (first time for both medications): patients who are staring both metformin and this medicament for the first time should initially start 50 mg of sitagliptin and 500 mg of metformin hydrochloride twice daily as the fixed combination. Form here dose can be increased.
Patients who are currently on other diabetes medications: generally patients who are adding Sitagliptin to their current diabetes medicine regiment should start with a 50 mg daily dose and work their way up.
Patients with renal impairment generally might require lower dosages of this medicament (given it is cleared by the renal system). Those with severe/end-stage renal disease should begin only on 25 mg/day (clearance of creatinine < 30 mL/min corresponding to serum creatine of >3 mg/dL in men or >2.5 mg/dL in women).
**Dosing information from DynaMed**
PHARMACOKINETICS
Bioavailability is estimated to be ~ 87%
Onset of action for this medication is ~1 hour
Half life of this medication is ~ 12.4 hours
Elimination: this medication is primarily eliminated by the kidneys via active tubular secretion. A smaller fraction is eliminated in the feces.
WHAT ARE THE SIDE EFFECTS/TOXICITY?
**Side effect profile is fairly mild compared to other diabetes medications**
Urinary infections, respiratory infections, acute pancreatitis, headache
ANYTHING ELSE TO KEEP IN MIND?
Sitagliptin-Simvastatin (Juvisync) is a fixed dose medication that has FDA approval and is in use. 
**This medication is relatively new and has not been as well studies as older therapies for diabetes**
FURTHER READING
Guide To Non-insulin Diabetes Medications
Approaches to glycemic treatment (ADA)
Page Updated: 07.09.2016