WHAT IS IT?
Glyburide belongs to the sulfonylurea class of oral hypoglycemic drugs. These medications work by closing potassium channels in the β-cell membranes, leading to depolarization of the cell, and eventual insulin release via calcium reflux.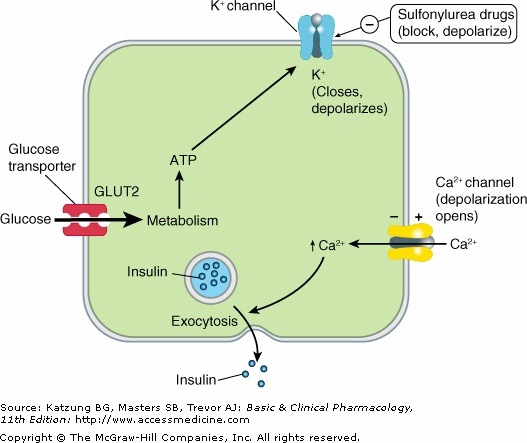 WHEN DO WE USE IT?
WHEN DO WE AVOID USING IT?
Type 1 diabetes mellitus, type 2 diabetes mellitus when pancreatic beta cells are already destroyed in the patient.
HOW IS IT ADMINISTERED?
Oral administration. Completely metabolized (likely in the liver)
WHAT ARE THE SIDE EFFECTS/TOXICITY?
Severe prolonged hypoglycemia is a serious side effect of this medication
ANYTHING ELSE TO KEEP IN MIND?
Sulfonylurea medications require some level of intact endogenous insulin signaling, so they are useless in type 1 diabetes mellitus
FURTHER READING
Page Updated:02.17.2016