OVERVIEW
This page is dedicated to covering heme synthesis.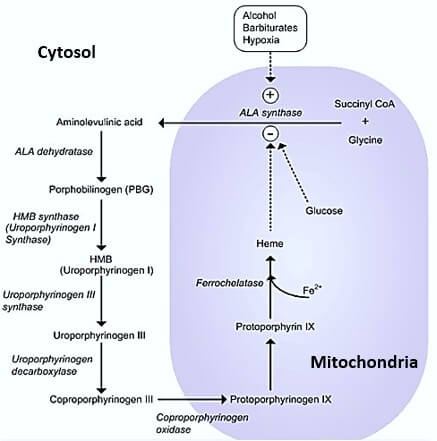 IN THE MITOCHONDRIA: INITIAL STEPS OF SYNTHESIS
1.) ALA (aminolevulinic acid) synthesis:
Succinyl CoA and Glycine are turned into ALA by the enzyme ALA synthase. ALA is transported to the cytoplasm for the rest of the steps.
**Glucose and heme downregulate this step by inhibiting ALA synthase
IN THE CYTOPLASM: INTERMEDIATE STEPS OF SYNTHESIS
2.) Synthesis of PBG (porphobilinogen)
ALA is turned into PBG by ALA dehydratase
3.) HMB (hydroxymethylbilane) synthesis:
PBG is turned into HMB by PBG deaminase (deficiency of this enzyme causes acute intermittent porphyria)
4.) Uroporphyrinogen III synthesis:
PGB is turned into uroporphyrinogen III by uroporphyrinogen III synthesis
5.) Coproporphyrinogen III synthesis:
Uroporphyrinogen III is turned into coproporphyrinogen III by uroporphyrinogen decarboxylase
IN THE MITOCHONDRIA (AGAIN): FINAL STEPS OF SYNTHESIS
6.) Protoporphyrinogen IX synthesis
Coproporphyrinogen III is converted to protoporphyrinogen IX by coproporphyrinogen oxidase
7.) Protoporphyrin IX synthesis
Protoporphyrinogen IX is converted to protoporphyrin IX.
8.) Heme synthesis
Protoporphyrin IX is converted to Heme by ferrochelatase (which adds Fe2+/iron)
Page Updated: 05.02.2017