WHAT IS IT?
Contact dermatitis is a pruitic (itchy), erythematous (red), oozing rash with vesicles and edema. This is caused by exposure to allergens such as poison ivy and nickel, penicillin, and irritant chemicals. Type IV hyeprsensitivy reaction that is a T cell mediated phenomenon.
WHY IS IT A PROBLEM?
The rash is uncomfortable.
WHAT MAKES US SUSPECT IT?
Risk factors: exposure to allergins (such as nickel or poison oak/ivy)
Onset: it will take a few days from the exposure for the rash to occur.
Chief concern (CC):
localized or generalized rash
pruritus (itching) becomes major symptom as lesion evolves
burning or stinging sensation or pain may occur with irritant dermatitis
Pruitic (itchy), erythematous (red), oozing rash with vesicles and edema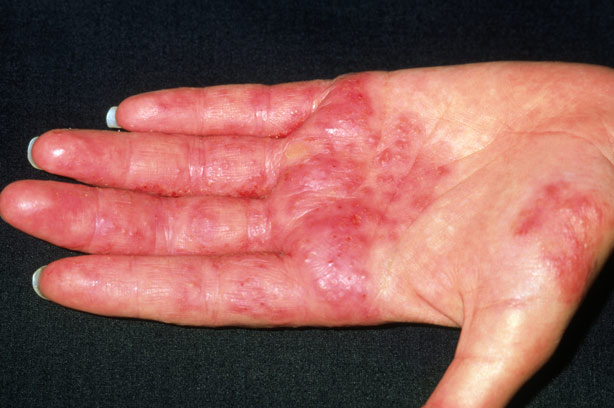 HOW DO WE CONFIRM A DIAGNOSIS?
Diagnosis usually made from clinical presentation and patient history.
HOW DO WE TREAT IT?
Removing offending allergin
Topical corticosteroids
HOW WELL DO THE PATIENTS DO?
Patients will will make a full recovery
WAS THERE A WAY TO PREVENT IT?
Avoid the offending agents (i.e. wear long pants during hiking)
WHAT ELSE ARE WE WORRIED ABOUT?
Jewelry: many items of jewelry contain nickel (the offending agent in some cases of contact dermatitis)
ARCHIVE OF STANDARDIZED EXAM QUESTIONS
This archive compiles standardized exam questions that relate to this topic.
FURTHER READING
Page Updated: 02.02.2016