WHAT IS IT?
Atrial Fibrillation (commonly referred to as "A-fib") is a cardiac dysrhythmia (more precisely it is a supraventricular tachyarrhythmia) that is characterized by uncoordinated atrial activation and an associated irregular ventricular response. It can either be chronic or acute in nature.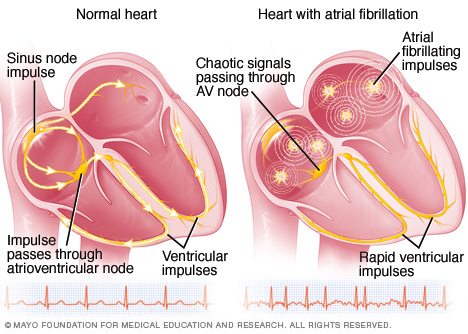 WHAT CAUSES IT?
Various causes of atrial fibrillation can fall into the following categories:
Structural heart disease
Metabolic disorders
Endocrinological disorders: hyperthyroidism,
Medication side effects
WHY IS IT CONCERNING MEDICALLY?
The loss of coordinated atrial contractions can be problematic, and can lead to the following medical complications:
Decreased cardiac output: a synchronized atrial contraction is important to the proper filling of the cardiac ventricles. In the setting of atrial fibrillation the ventricles are not properly filled, and by extension, the cardiac output of the heart can be diminished.
Clot formation: blood can remain pooled in the atria due to the loss of a coordinated contraction. This stagnant blood can coagulate forming clots that can embolize and travel to different parts of the body (causing ischemic attacks/strokes/etc).
WHAT IS THE INTIAL PRESENTATION?
Patient Chief Complaints:
Asymptomatic: this condition can be asymptomatic especially in patients with chronic atrial fibrillation (and who are not actively in A-fib)
Palpitations
Lightheadedness/dizziness
Loss consciousness (syncope)
Focal neurological defects: in the setting of a stroke)
Detected Medical Problems:

Irregularly irregular heart rhythm
EKG findings (further outlined below)
WHAT ARE IMPORTANT ELEMENTS OF THE MEDICAL HISTORY?
Risk Factors:
Mitral regurgitation
Subclinical hyperthyroidism
Medical History:
WHAT ARE IMPORTANT FEATURES OF THE PHYSICAL EXAM?
Vital Signs:
Irregularly irregular heart rhythm can be detected when checking the pulse.
Cardiovascular Exam:
Irregularly irregular heart rhythm can be detected during auscultation.
CLINICAL WORKUP: SERUM STUDIES
Serum TSH: can be evaluated to workup other causes of heart palpitations, or try to uncover the underlying etiology of the suspected/diagnosed atrial fibrillation.
CLINICAL WORKUP: CARDIAC STUDIES
Various types of EKG studies may be ordered, however they may demonstrate the following changes in a patient with active atrial fibrillation:
Loss of P-Waves
Rapid oscillatory (fibrillatory) baseline: waves can vary in amplitude, shape, and timing.
Irregularly irregular ventricular response: irregular RR intervals will be present
Transesophageal echocardiography: this study can be used to evaluate for the presence of appendage thrombus and also aid efforts to cardioavert patients who are not taking oral anticoagulants.
HOW DO WE NARROW THE DIFFERENTIAL?
Conditions that present similarly and how to exclude them:
WHAT IS OUR THRESHOLD FOR DIAGNOSING THIS CONDITION?
EKG findings consistent with atrial fibrillation are generally required for the definitive diagnosis of atrial fibrillation.
PATIENT MANAGEMENT: DISEASE TREATMENT
PATIENT MANAGEMENT: PROPHYLACTIC MEASURES
To prevent clot formation in the atria, patients are given the following anticoagulants:
COULD THIS HAVE BEEN PREVENTED?
ARCHIVE OF STANDARDIZED EXAM QUESTIONS
This archive compiles standardized exam questions that relate to this topic.
Page Updated: 02.22.2017