WHAT IS IT?
Digitalis (Digoxin) is a cardiac glycoside (positive inotrope) that increases the muscle contractility of the heart. It works by blocking the sodium/potassium pump which increases intracellular sodium, which ultimately increases intracellular calcium. The net action of this medication is that it increase contractility and stroke volume.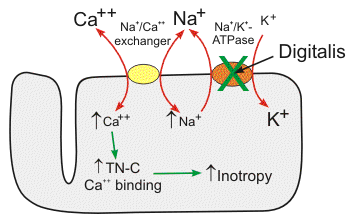 WHEN DO WE USE IT?
Congestive heart failure: to increase intropy
Atrial Fibrillation: to slow ventricular rate. The increased inotropy from the medication decreases sympathetic tone, and this in turn slows AV conduction (slowing the ventricular rate).
WHEN DO WE AVOID USING IT?
In the setting of hypokalemia: because this medication binds to the potassium site on the sodium/potassium ATPase, in the setting of hypokalemia there is not enough potassium to outcompete the digitalis medication, and patients can develop digitalis toxicity easily.
Renal insufficiency: this medication is renally excreted.
HOW IS IT ADMINISTERED?
WHAT ARE THE SIDE EFFECTS/TOXICITY?
Digoxin toxicity: this medication has a low therapeutic index,
Visual changes
GI distress
Gynecomastia can be caused
ANYTHING ELSE TO KEEP IN MIND?
Anti-dig Fab fragments are used to treat digitalis toxicity
Page Updated: 02.20.2017