WHAT IS IT?
Polycythemia vera (PCV): this is a chronic myeloproliferative disorder that results in the production of too many Red Blood Cells (RBCs). The causal mutation for this condition is a JAK2 gain of function mutation that occurs in hematopeoitic stem cells.
WHY IS IT A PROBLEM?
JAK2 is is a non-receptor tyrosine kinase protein which works to promote cellular growth and proliferation. When mutated in PCV, JAK2 serves to make erythroid precursors hypersensitive to erythropoietin/EPO (by modulating this EPO signaling pathway) active even in its absence. The net consequence of this is excessive production of RBCs that can be found in the patients blood stream. There are 2 major disease states:
Proliferative/polycythemic phase with increase in red blood cells
Postpolycythemic/spent phase including cytopenias, extramedullary hematopoiesis, hypersplenism, and myelofibrosis (fibrosis of bone marrow due to this form of cancer)
Such high concentrations of RBCs can make the blood viscous (causes the majority of symptoms) and hyperscoagulable. White blood cells and platelets are also elevated given that the JAK2 mutation promotes the production of all of these lineages.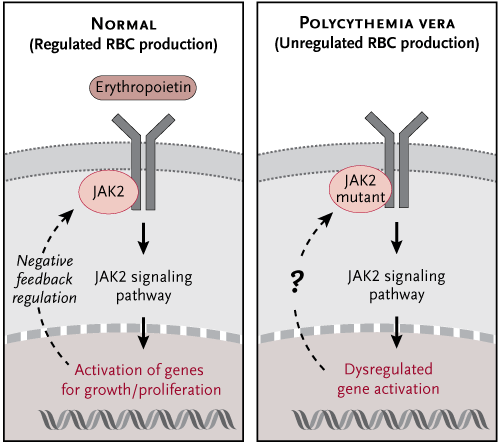 WHAT MAKES US SUSPECT IT?
Risk factors: European, Ashkenazi Jews
Chief concerns: symptoms are related to thrombosis and/or hemorrhage that commonly include:
Claudication: cramping pain of the leg that occurs with exercise (due to occlusion of arteries)
Ischemic digits: occlusion of blood vessels compromises blood flow to the digits.
Visual disturbances: loss of flow to the eyes can compromise vision.
Distal extremity erythromelalgia: periodic bloccking of vessels to extremeites casues hyperemia (excess blood) and inflammation. Associated with a burning pain.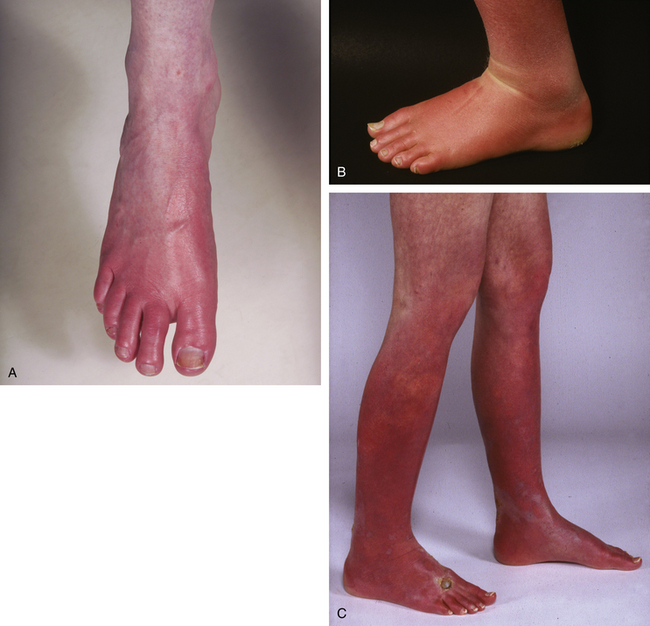 Pruritus: severe itching of the skin (especially after bathing) due to increased production of basophils/mast cells.
General physical: hypertension, weight loss, weakness, purpura
Facial plethora: redness/ruddiness of face
Abdominal exam: hepatosplenomegaly (caused by congestion of the vasculature and/or extramedullary hematopoiesis)
HOW DO WE CONFIRM A DIAGNOSIS?
Elevated ESR: increased RBC's "dilute" aggregation factors making sedimentation take longer.
Complete Blood Count: Hb concentration will be increased, hematocrit will be increased as well.
Leukocytosis or thrombocytosis may be seen in some patients. Bone marrow aspirate can show hyperplasia of all three myeloid cell lines. Patients in the spent phase will have fibrotic bone marrow.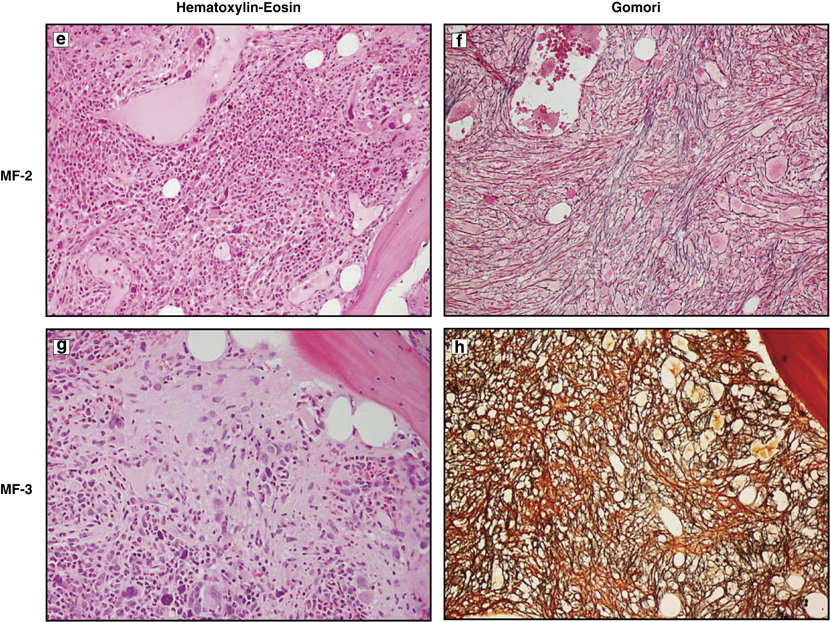 EPO levels decreased: this will help distinguish PCV from reactive polycythemia (whose levels of EPO will be elevated).
Oxygen Saturation normal: 02 sat should be normal in this condition because the polycythemia is not reactive to low Oxygen levels.
Increased LAP (Leukocyte Alkaline Phosphatase): enzyme found in white blood cells that is increased in PCV (and can be used to rule out chronic myelogenous leukemia/CML because it is decreased in CML)
Genetic testing: the causal JAK2 mutation can be identified with sequencing.
HOW DO WE TREAT IT?
Phlebotomy: chronic blood draws are the firs line therapy, are used to remove excess RBCs from the patients blood stream (with the goal of keeping the hematocrit below 45%.
Hydroxyurea: this is a myelosuppressive agent that appears to interfere with the synthesis of DNA. Other myelosupressive agents such as interferon-α (IFN-α) can also be used.
HOW WELL DO THE PATIENTS DO?
Without treatment death usually occurs within the year.
With treatment expected survival is greater than 10 years.
WAS THERE A WAY TO PREVENT IT?
There are no clear ways to prevent this genetic mutant from occurring.
WHAT ELSE ARE WE WORRIED ABOUT?
Iron deficiency anemia can be caused by chronic phlebotomy and should be monitored (patients likely should receive iron supplements)
Gouty arthritis (from increased cell turnover caused by cancer) can occur in PCV
OTHER HY FACTS?
Nearly all cases of polycythemia vera believed to be associated with JAK2 V617F mutation
ARCHIVE OF STANDARDIZED EXAM QUESTIONS
This archive compiles standardized exam questions that relate to this topic.
Page Updated:01.09.2016