WHAT IS IT? 
Sideroblastic anemia is a condition that is distinguished by a defect in heme synthesis (that is not due to iron deficiency). There are 3 major types of causes for this condition:
Hereditary: X-linked defect in δ-ALA synthase/ALAS gene.
Acquired: myelodysplastic syndromes (group of disorders caused by formation of blood cells in the marrow).
Reversible: alcohol abuse (most common), lead poisoning, vitamin B6 deficiency, copper deficiency, isoniazid usage (often for TB).
WHY IS IT A PROBLEM?
A defect in the ALAS gene/synthesis ultimately results in the lack of production of protoporphyrin which is combined with iron to make heme (essentially this pathway is needed for proper hemoglobin production). This final reaction occurs in the mitochondria, so ultimately (regardless of the causes explained more below) patients with sideroblastic anemia will not be able to make heme (and by extension hemoglobin) leading to iron accumulation in RBC precursors, and anemia.
More specific mechanisms: Mitochondria poisoning by alcohol, B6 deficiency (cofactor) for ALAS, lead poisoning inhibition of other heme pathway components (ALAD/ferrochelatase) all interrupt proper heme synthesis.
WHAT MAKES US SUSPECT IT?
Risk factors: alcoholism, myelodysplastic syndromes, isoniazid treatment for tuberculosis
Signs of anemia: fatigue, dyspnea
Splenomegaly
Neurologic:  Ataxia, diminished deep-tendon reflexes, incoordinatio
HOW DO WE CONFIRM A DIAGNOSIS?
Complete blood count (CBC): microcytic anemia,
Bone marrow biopsy: ringed sideroblasts seen on blood smears. These are RBC precursors appear with excess iron in their mitochondria (form a ring around the inside of the cell). Prussian-blue stain used for this analysis.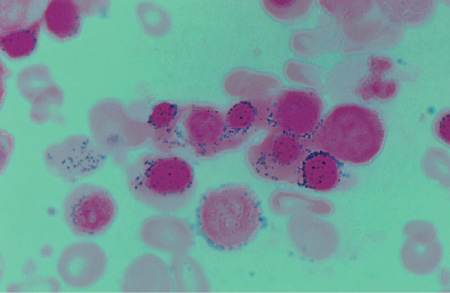 Iron analysis: serum iron concentrations normal/increased, increased ferritin (due to accumulated iron), total iron binding capacity (TIBC) normal or decreased (due to increased ferritin and iron).
HOW DO WE TREAT IT? 
*Treatment of the underlying condition that is causing the sideroblastic anemia is important 
Pyridoxine (B6): this is a cofactor for δ-ALA synthase and can be given as a treatment for patients with B6 deficiency.
Alcohol cessation curative in patients who suffer sideroblastic anemia as a result of alcohol toxicity.
HOW WELL DO THE PATIENTS DO?
Prognosis depends entirely on the cause of the anemia (reversible causes such as B6 deficiency can be easily cured).
WAS THERE A WAY TO PREVENT IT? 
Reversible causes could be prevented (avoiding alcohol abuse, lead poisoning, B6 supplementation).
WHAT ELSE ARE WE WORRIED ABOUT? 
Chronic alcoholism: the most common cause for reversible sideroblastic anemia, consider the possibility of alcohol abuse in patients who present with sideroblastic anemia.
Myelodysplastic syndromes: sideroblastic anemia may be a consequence of a more serous issue within the bone marrow that compromises blood cell synthesis. The possibility of the patient having such a syndrome should be kept in the clinical differential.
OTHER HY FACTS?
Isoniazid treatment for tuberculosis can commonly cause vitamin B6 deficiency (which is an important co factor for ALAS
Page Updated: 01.08.2016