WHAT IS IT?
Prazosin (Minipress) is a α1-adrenergic blocking agent. These medications will cause vasodilation by blocking the action of norepinephrine on vascular smooth muscle.
WHEN DO WE USE IT?
Post Traumatic Stress Disorder (nightmares): this medication is often used to treat nightmares that are experienced in the context of PTSD.
Urinary retention (in the setting of BPH): this medication can relax smooth muscle in the urinary tract.
Hypertension: given its activity this medication can be used to lower hypertension (although is not a common first-line antihypertensive medications).
Pheochromocytoma: before surgical removal of this tumor, the patient is give alpha-adrenergic blockade, which can be done with Prazosin.
WHEN DO WE AVOID USING IT?
Hypotension: patients who have very low blood pressure might need to avoid this medication (due to its activity as a vasodilator).
HOW IS IT ADMINISTERED?
Orally administered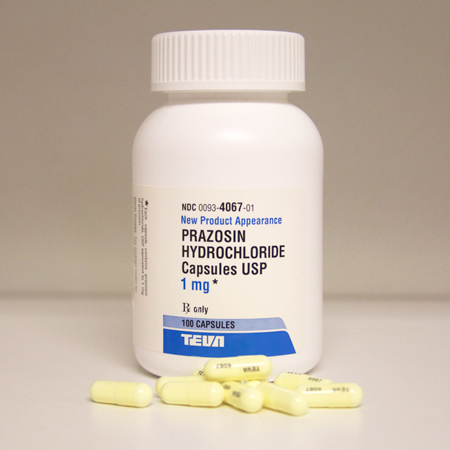 WHAT ARE THE SIDE EFFECTS/TOXICITY?
Orthostatic hypotension: This can be experienced often during the initial dosing of this medication.
General: headaches, dizziness
ANYTHING ELSE TO KEEP IN MIND?
Ending of "-zosin" is generally specific to
FURTHER READING
Page Updated: 09.01.2016