OVERVIEW
This page is dedicated to covering how to properly understand and interpret electroencephalograms (EEG).
To read more about specific EEG findings look in the Archive Of EEG Findings.
WHAT IS AN EEG?
At its core, an EEG is a way of monitoring the electrical activity (i.e. brainwaves) of the brain this is achieved by attaching various electrodes to the head of the patient so that this electrical activity can be measured and recorded.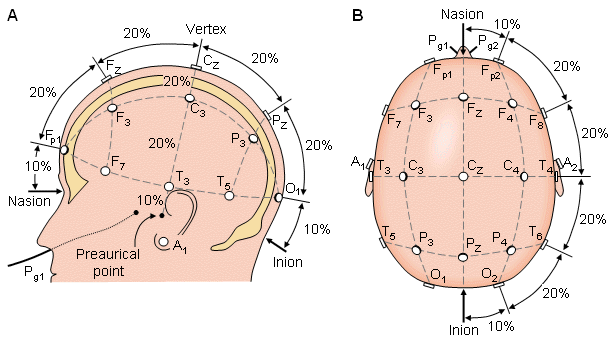 Below is some shorthand to keep in mind with regards to electrode placement: 
F = frontal
Fp = frontopolar
T = temporal
C = central
P = parietal
O = occipital
A = auricular (ear electrode)
WHAT TYPE OF BRAIN WAVES ARE RECORED?
It is important to cover the specific types of brainwaves that are recorded during an EEG study.
Beta waves (12 to 38 Hz): these are the fastest brainwaves that dominate normal waking states of consciousness.
Alpha waves (8 to 12 Hz): these waves are dominant during quietly flowing thoughts. It is the resting state of the brain (but this does not refer to sleeping).
Theta waves (3 to 8 Hz): these waves occur most often in sleep but can also be dominant in deep mediation. They are often associated with that state individuals feel as they are awakening or drifting off to sleep.
Delta waves (0.5 to 3 Hz): these are slow and deeply penetrating brain waves. They are generated in the deepest meditative states/dreamless sleep. Delta waves during periods of wakefulness are abnormal
TYPES OF EEG
Traditional EEG: 
Sleep EEG: 
Ambulatory EEG: 
LTM: includes video (with gold standard)
SOME SPECIFICS
Eye blinks: can see dips on the EEG for patients who are awake.
Open eyes: alphas begin to show
Close eyes: alphas begin to disappear.
Eating: 
Biopolar (double banna) montage: 
Epileptiform abnormalities: spike and wave
Herpes encephalitis: periodic lateral epilpetiform discharges.
Page Updated: 08.24.2016