WHAT IS IT? 
Hereditary elliptocytosis (HE): this is a autosomal dominant membrane disorder that results from defects in either the protein spectrin (most common) or band 4.1. These changes cause the RBCs to take on an elliptical shape.
WHY IS IT A PROBLEM?
Hemolysis will occur because these misshapen RBCs will be destroyed in the spleen. This can lead to hemolytic anemia and associated symptoms.
WHAT MAKES US SUSPECT IT?
Risk factors: family history.
Symptoms of anemia: fatigue, dizziness (MOST PATIENTS HAVE NO ANEMIA)
Jaundice: increased unconjugated bilirubin in the blood (due to hemolysis) will result in physical findings of jaundice.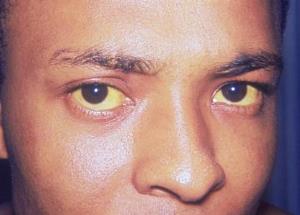 Splenomegaly: a spleen could be palpable on physical exam.
HOW DO WE CONFIRM A DIAGNOSIS?
Complete blood count (CBC): may show following findings
Decreased hemoglobin (Hb)
Decreased hematocrit (Hct)
Normal mean corpuscular volume (MCV)
Increased mean corpuscular hemoglobin concentration (MCHC).
Peripheral blood smear: will demonstrate the presence of elliptocytes.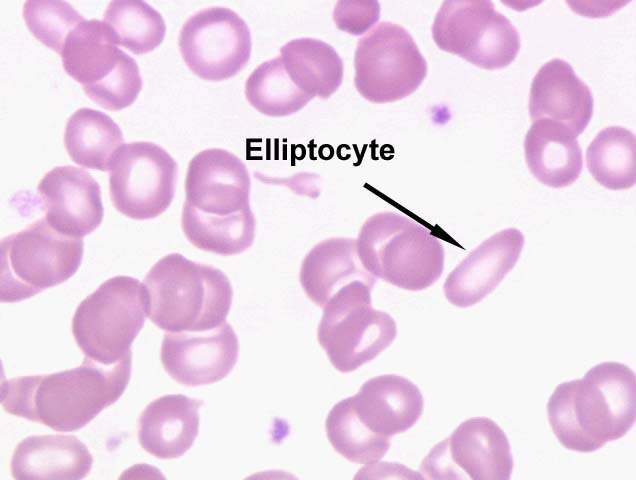 HOW DO WE TREAT IT? 
*Most do not require treatment because most individuals with HE have modest hemolysis and either no or mild anemia. 
Splenectomy is curative.
HOW WELL DO THE PATIENTS DO?
Patients do quite well, given that many don't experience symptoms and removal of the spleen is curative.
WAS THERE A WAY TO PREVENT IT? 
This genetic condition is not preventable
WHAT ELSE ARE WE WORRIED ABOUT? 
N/A
OTHER HY FACTS?
N/A
Page Updated: 01.06.2016