WHAT IS IT? 
Hereditary Spherocytosis (HS) is an autosomal dominant genetic condition that results in an abnormality of the red blood cell (RBC) membrane. Instead of having a biconcave appearance, the cells instead are completely spherical in shape due to mutations in the genes that code for membrane proteins (i.e. ankryin, spectrum, or band 3).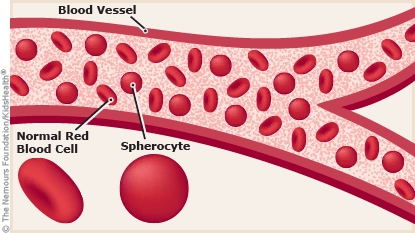 WHY IS IT A PROBLEM?
The normal biconcave shape of the RBC is versatile and can be deformed in the vasculature (improving efficacy of circulation). Completely spherical RBCs are less easily deformed, and ultimately become trapped in the spleen where they are destroyed and removed form circulation. This condition ultimately results in hemolytic anemia (extravascular).
WHAT IS THE INTIAL PRESENTATION?
Patient Chief Complaints:
Jaundice may be observed by the patient (yellow skin, scleral icterus).
Symptoms of anemia: fatigue, pallor, etc.
*Patients often times may be asymptomatic until adulthood
Detected Medical Problems:
Anemia: patients will have low levels of hemoglobin (

especially with signs of hemolysis

such as elevated LDH, increased indirect bilirubin, etc).
WHAT ARE IMPORTANT ELEMENTS OF THE MEDICAL HISTORY?
Risk Factors:
Northern European descent
Family history of this condition
Medical History:
Recurrent episodes of jaundice, fatigue, anemia may be a component of the patient's past history. Symptoms may persist despite treatment with iron supplementation.
*Patients often times may be asymptomatic until adulthood
WHAT ARE IMPORTANT FEATURES OF THE PHYSICAL EXAM?
Vital Signs:
These can be variable however this condition will often times present with vital signs that are normal.
General Exam:
Signs of jaundice may be present: such as yellow skin, scleral icterus, etc
Signs of anemia may be present: pallor
Abdominal Exam:
Splenomegaly may be present on this exam.
CLINICAL WORKUP: SERUM STUDIES
Complete Blood Count (CBC): patients will likely already have this study (and it may have been what prompted the workup for anemia).
Anemia: patients often present with low hemoglobin.
Normal MCV: patients usually will have a normal value for this.
Elevated MCHC: 

this finding is specific to HS (especially on standardized exams)
Liver Function Tests (LFTs): patients will have elevated bilirubin often (due to hemolytic anemia) but normal liver enzymes.
Normal liver enzymes: such as AST, ALT, ALP (HS does not affect the liver).
Elevated bilirubin: total and indirect usually are elevated in this condition (consistent with a hemolytic anemia)
Lactate Dehydrogenase (LDH): this lab value is often elevated (consistent with a hemolytic anemia)
Blood Smear: Often acquired to work up anemia. Spherocytes will be present (completely spherical RBCs) will be visible on peripheral blood smear. These cells lose their central pallor (lightness in the middle obsessed in normal erythrocytes)
Osmotic fragility test: this laboratory procedure assesses what fraction of red blood cells lyse when placed in a hypotonic solution. In HS, increased numbers of cells will lyse during the fragility test.
Genetic screen: As is the case in any genetic condition, sequencing of patient DNA can demonstrate the presence of a causal mutation (however is not alway necessary for diagnosis).
HOW DO WE TREAT IT? 
Folate/Iron supplementation: given the chronic hemolytic state, patients should be supplemented with folate and iron (this aids in RBC production as they are required in the process).
Blood transfusions: also reserved for more severe disease, replacing patient blood with normal biconcave RBCs will be beneficial.
Splenectomy: removal of the spleen is a common treatment strategy as it decreases entrapment and destruction of spherocytes (and is curative). With this in mind, is is only reserved for patients with severe disease. It carries the risk of increasing the likelihood of infection from encapsulated organisms,
HOW WELL DO THE PATIENTS DO?
Patients with mild hereditary spherocytosis usually are asymptomatic and without anemia throughout lifetime
Patients with moderate hereditary spherocytosis are usually asymptomatic:
Anemia usually presents in childhood, but may occur later in life
Splenectomy usually not required
*Splenectomy is usually curative
WAS THERE A WAY TO PREVENT IT? 
This genetic condition is not favorable
WHAT ELSE ARE WE WORRIED ABOUT? 
Aplastic crises from parvovirus B19 infection (cessation of RBC production) given infection of erythroid precursors
Pigmented gallstones (choleithiasis): increased amounts of unconjugated bilirubin can lead to gallstone formation.
OTHER HY FACTS?
For the Step 1 exam, any time you see an increased MHCH consider HS
ARCHIVE OF STANDARDIZED EXAM QUESTIONS 
This archive compiles standardized exam questions that relate to this topic.
Page Updated: 01.06.16